Growing food and plants in soil is great but it has a few problems. Tonnes of weeding needs to be done, pests are a serious  problem and in winter you can't grow anything at all. This is why thousands of people are turning to Hydroponic gardening.  In our Grow Up Hydrogarden Review you'll see why this tower is a great way to get started in hydroponics.
There's no weeding, pests are almost completely gone, and it's easily done indoors. This means you can grow all year round and you really don't need much space either.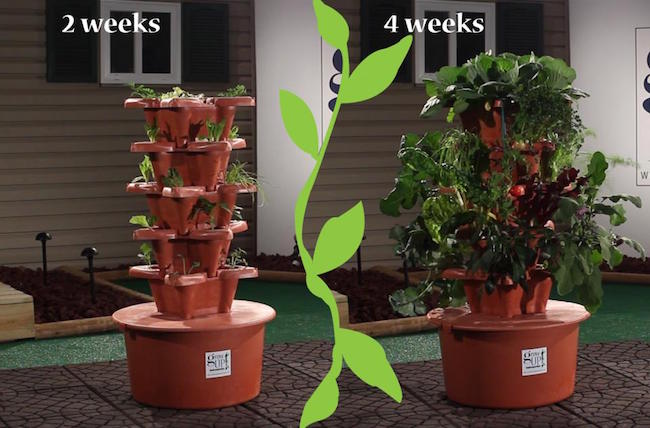 Grow Up Hydrogarden  Review Overview
Over All Rating 9/10
Retail Price: $299
Best Price: Amazon.
Outdoors: Yes you can
Indoors: Yes you can
Area required: 4 SQ feet
Dimensions: 2.15-Feet by 4-feet
 Material: food grade plastic, UV protected, made in USA
Growing Pots: 5 pots with a total of 20 growing slots
Water Reservoir: 20 gallon capacity with lid – terracotta coloured
Water Pump:  submersible Jr 1100
Nutrient Solution: 1 Carton of Dyna-Gro Foliage-Pro
Grow medium: 2 9-Liter Bags of Growstones
Grow Medium: 2 9-liter bags of Growstones Mix This
Growing capacity: 20 plants (can be extended with more growing pots)
Good to Go: Yes – easy assembly with user manual provided
Usability Rating: 9/10
Looks Rating: 7.5/10
Price: Rating 9.5/10
Fun Rating: 8.5/10
(Deluxe Kick Starter Pack)
We think Grow Up Hydrogarden compares very well with other hydroponic towers. It has all the features you would expect yet comes at very reasonable price.
Its not the Rolls Royce of hydroponics but it's a great way to get started in this method of growing plants or food at home.
Why Grow Up Hydrogarden?
Grow 20 plants
Easy Assembly
Everything you need to get started in Deluxe Starter Pack
Great Price
What Are The Benefits?
In this starter Deluxe pack you really have everything you need to get going in the world of Hydroponics.
It's not so pretty as the market leading Juice Plus Tower Garden, however at a $200 saving for practically the same system we consider it a great bargain.
The full kit includes all nutrients and growth medium. (growth medium is what supports the plants instead of soil). The medium and nutrients could potentially last you all of your first year, this is good value.
Growth medium, according to some users, can be washed in fresh water with some vinegar and used again.
The system can be used outdoors or indoors as suits you best.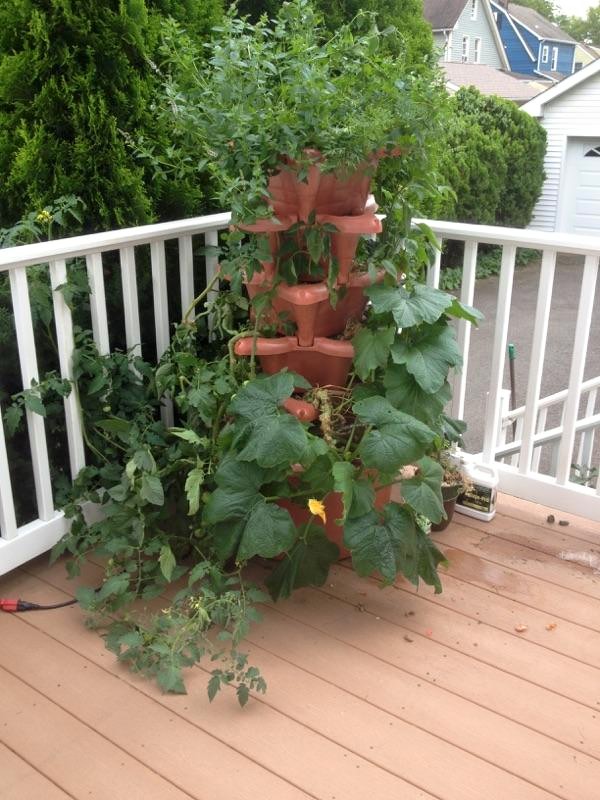 Five growing pots give you a growing capacity of twenty plants. (The same as Juice Plus system.) A great way to start.
The growing pots are all food grade plastic. They are simply stacked on top of each other.
Buying more growing pots will allow you to increase the growing capacity. However you would need to upgrade your pump and tubing.
Plants will get plenty air and water because of the supplied specialised growing stones and pump.
Because of the small size you can get started on a small patio, porch, balcony or even inside your home.
The pump is submersible so it can be stored in the twenty litre water tank and not be seen. This also makes it quieter.
A twenty litre water tank means you are only watering the plants once a week or fortnight.
Of course all the usual benefits of hydroponic gardening still apply.
Compared to many systems, assembly is extremely simple.
Some Things To Note
You do need to get your own seeds or starter plants from a nursery. Seeds do not fair well in the growing stones.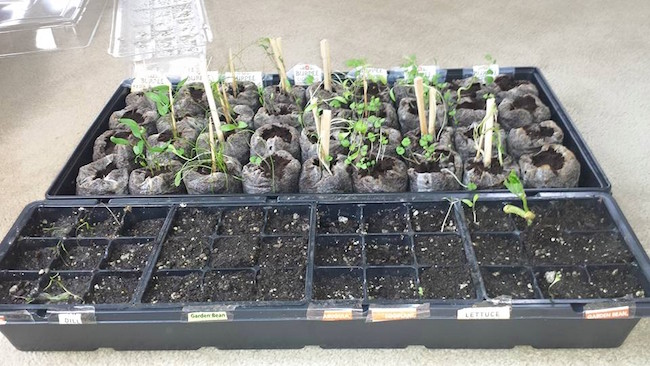 There is no timer for the water pump. (You don't necessarily need one though)
Customer service through their Facebook page has a very quick response time.
Grow Up Hydrogarden Review In a Nutshell
You can grow up to twenty plants
You can grow them in as little as three weeks.
You can grow organically.
You can grow all year round.
You can grow inside or outside.
You can grow in a small space.
Plants can be ready in three weeks.
The unit is durable.
The unit is food safe.
You can assemble very easily.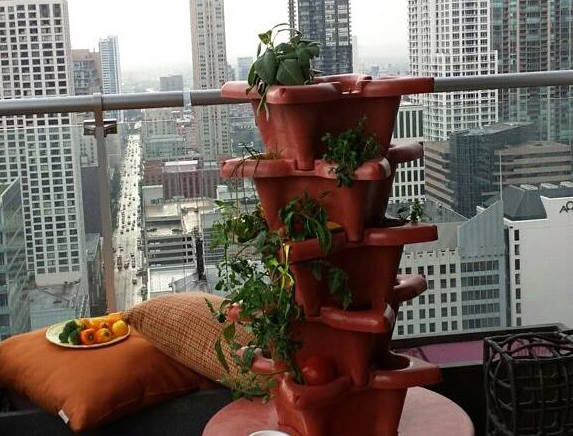 What Are Customers Actually Saying?
We scoured the internet and read different reviews on many merchant websites and forums. We saw that all of the benefits above are supported by many forum discussions and customer reviews on the top merchant websites.
Costco, Amazon, and home Depot for example all have good customer reviews on this product.
Amazon: 4/5 star rating is given – From 40 customer reviews
Home Depot:   4/5 star rating – From 1 customer review.
Costco: 4.75/5 start rating – From four Customer reviews.
As with all products some customers say good things, some say bad. In this case however the vast majority have good things to say.
Reviews from customers who have both the Grow Up Hydrogarden and the Juice Plus Tower (sorry for always bringing that one up) actually say this product is better despite being $200 cheaper.
"I own both. The only difference I see is the shape, color and of course the price. I'm getting ready to order my second Grow Up HGTC"
"Good for beginners"
"Great for indoor gardening"
"much better quality than expected"
"This unit is the best hydroponic as far as quick assembly"
"Still looks like new after three years"
"Customer service is great"
are some of the many positive comments.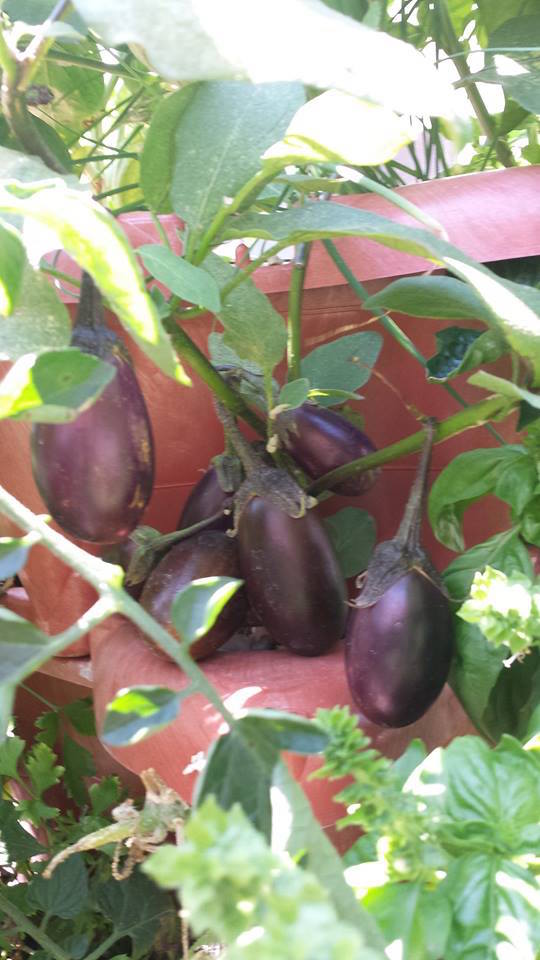 There are some negative comments on these sites but they really are few and far between. Negatives were from people who had problems getting their plants to grow.
"Not enough growing medium" and "The Grow Up started out good but turned out to be a POS".
The last customer, calling it a "POS", claims to have followed all instructions correctly.
Personally, we think that judging by all the other positive comments the chances are this person had made a mistake somewhere along the line.
As over 95% of the fifty or so customer reviews that we have read are very positive we believe this to be genuinely a very good product.
Grow Up Hydrogarden Review Verdict
This product is well worth it's price tag. You are ready to go, set up is fast and easy, and customer service gets a big thumbs up too.
All the benefits of Hydroponic gardening still apply. No weeding, no pests, grow in doors if you wish. Grow all year round. All this for way less than may Hydroponic kits.
It gets a solid 9/10 from us.
Best Place To Buy?
Buying form merchants other than the official website is far cheaper. The official Hydrogarden website prices it at $299.
That would be nearly $300 cheaper than the Juice Plus Tower Garden, for essentially the same product. (whoops we did it again!)
If you have any extra questions about this product, any experiences you would like to share or any other products you would like us to review please get in touch through the comments below.
We'd love to hear from you and are always happy to help.