If you don't have any garden space window boxes are a great idea. But what is the best window box for vegetables? The answer very much depends on you. Maybe you live in a flat. Maybe you have a small patio. Maybe you want to grow lettuce, maybe you want to grow tomatoes. For instance, things you need to consider are, how big are your windows?
How many vegetables do you want to grow? What size of vegetables do you want to grow? Do you have any other space to put the boxes on? And of course, how much money do you want to spend?
To help you find the best window box for vegetables for you we have put together a top 6 list. You can pick the one that suits you best. If you want to see other window boxes just follow the "best price" links and you will see a huge selection in there.
Best Window Box For Vegetables
1 ) Veradek Brooklyn Rectangular Window Box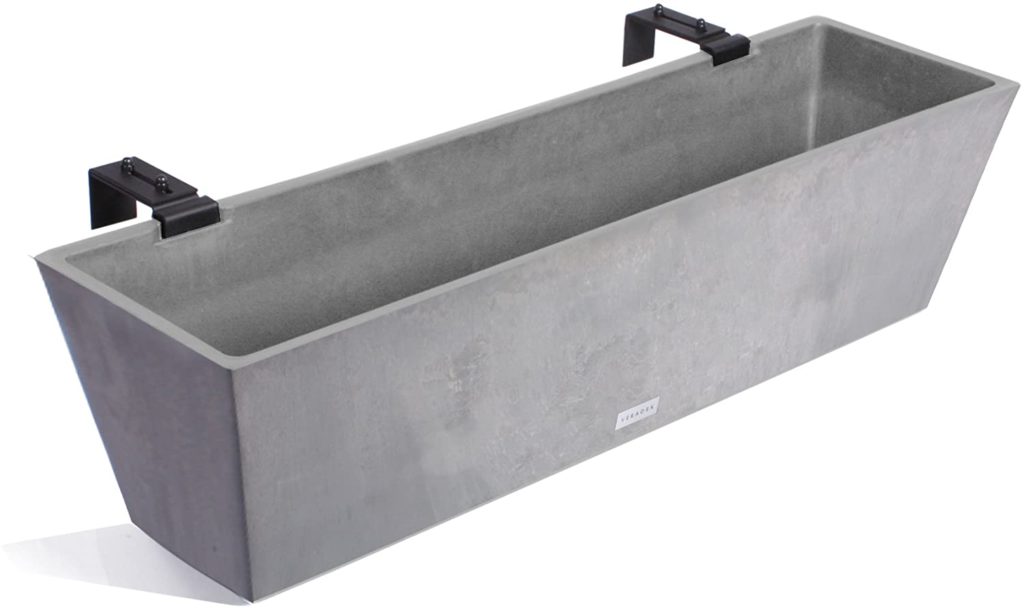 Quick Summary
Benefits
Hight Grade Polythene Composite: Incredibly strong and durable. This box will last a lifetime. Although a bit more expensive than the others. You will never need to buy another one.
Mountings Included: Wall attachment are included. You can attach it to walls or railings. The brackets are adjustable for railings of different widths.
Frost Resistant: This very thick and sturdy plastic will withstand extremely cold temperatures. Thinner and more fragile plastics can sometimes be prone to cracking in freezing weather.
Light Weight: Despite being incredibly strong this window box is also very light weight. It's very easy to mount and put into place.
Slick Design: The simplistic look of this rectangular window box has a minimalist style that many people like these days.
Why on Our List?
Because it will last a lifetime. It is very strong and lightweight. It comes with wall mountings. It has an appealing minimalist look.
2) Solid Acacia Wood Window Box 24″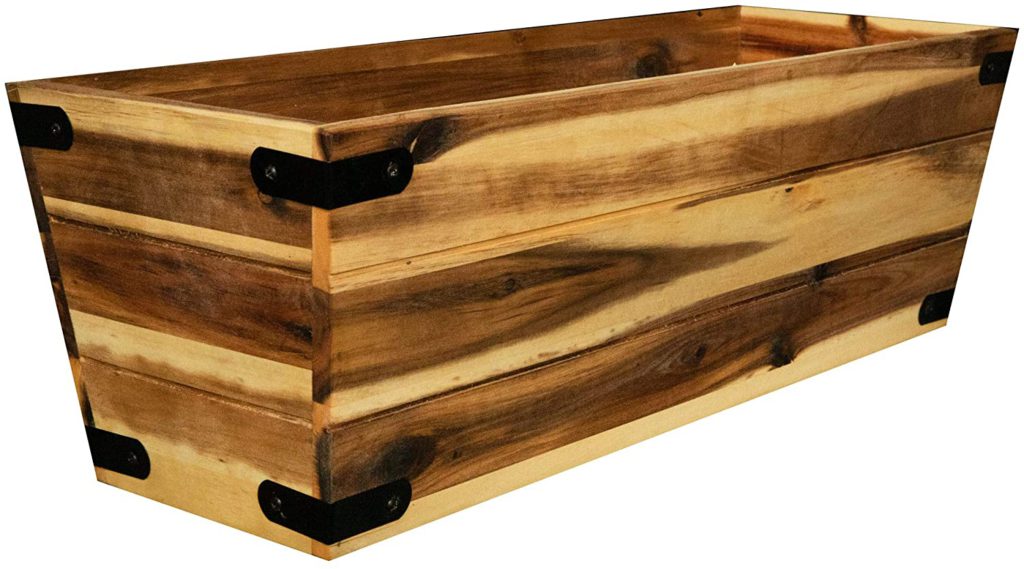 Quick Summary
Easy to Assemble: Simply fix the corner brackets with a few screws and you are good to go.
Very Sturdy: Great quality, thick wood that makes for a strong, long lasting box.
Great Value: For a cheap price this is a good, sturdy, long lasting product.
Tropical Hard Wood: The box is made of Acacia hard wood which is naturally water and bug resistant. It could be a good idea to treat it though to make it last even longer. Not completely necessary but just gives it extra protection.
Drainage Holes: There are two drainage holes in the bottom of this planter to help extra water get out.
Vegetables, Herbs, Flowers: This window box can be used for flowers, herbs or vegetables.
Outdoor or Indoor: You can use this box planter inside or outside. Whichever suits you best.
100% FSC Certified: This product is certified as being made in a sustainable manner. Forrest Steward Ship Council
Two Sizes: 24″ Long and 31″ Long are available.
Please Note: To make this product last longer it would help to treat it.
Why on Our List?
This window box makes our list because it's all natural, made in a sustainable manner, and is of a good quality.
3) Achla Designs Galvanised Steel Window Box

Quick Summary
Benefits
Classic Design: This simple, elegant and classic design can look comfortable in almost any space.
Galvanised Steel: Special galvanised steel helps this window box last for a long time. It won't rust and will withstand the weather for many years.
Drainage Holes: Like all the boxes on this list, the Achla box has drainage holes to stop roots of vegetables or other plants getting wet.
Different Finishes: This rectangular window box comes in blue, white, green, and copper.
Very Strong: The galvanised steel is very strong and this will last a long time.
Has it's Own Wall Mounters: Achla makes it's own brackets to support this planter against a wall. There are different sizes for the different sized containers in this range. Take a look here.
Different Sizes Available: You can choose from a umber of different sizes. From 22″ Long up to 35.5″ Long.
Why on Our List?
This window box is highly durable. Not only can you pick form a range of sizes, you can pick from a range of colours and finishes too.
4) Window Box with Cocoa Moss Liner

Quick Summary
Benefits
Heavy Gauge Steel: This is a strong and and sturdy box that will last for a long time.
Natural Coco Liner: The natural fibre lining is a breathable fabric and adds to the rustic appearance of this window box.
Powder Coated: The metal frame is coated with a "patine powder" finish which protects it well against the elements. This means it will last a long time
Adaptable Mounting Pieces: The mountings can be used deck rails, iron railings or against a flat wall surface.
Authentic Antique Look: The thick, heavy steel with the powdered finish gives this herb window box the quality look of a far more expensive traditional antique. Basically it looks much more expensive than it actually is.
Why on Our List?
This one makes our list because it's durable, strong and has a real classy, antique look. Probably not meant for vegetables but we just love the look.
5) Plastic Window Box

Quick Summary
Benefits
Light and Strong: This isn't the thickest of plastic but that means it's light and easy to work with. It's certainly strong enough for the job.
Removable Saucer Tray: The box sits on a saucer tray that catches excess water. This is very useful if you don't want water dripping form the box onto whatever is under it.
Drainage Holes: Drainage holes in the bottom allow water to come out of the bottom and stop your vegetable roots being too damp.
Matt Finish: A Matt finish means it's not too shiny. It's still and easy wipe clean surface.
100% UV Stabilised Plastic: It has been well treated and won't degenerate in the sunlight like many other types. of plastic.
Different Sizes: You can pick from a range of sizes going from 18″ Long right up to 30″ Long.
Many Different Colours: There is a a range of ten colours that you can choose from including, black, grey, green, blue and terracotta.
Why On Our List?
This box is great value. It's light weight, you can choose from a range of sizes and colours to suit your taste and needs. Also UV 100% resistant.
6) Buhbo Modern Trough Rectangle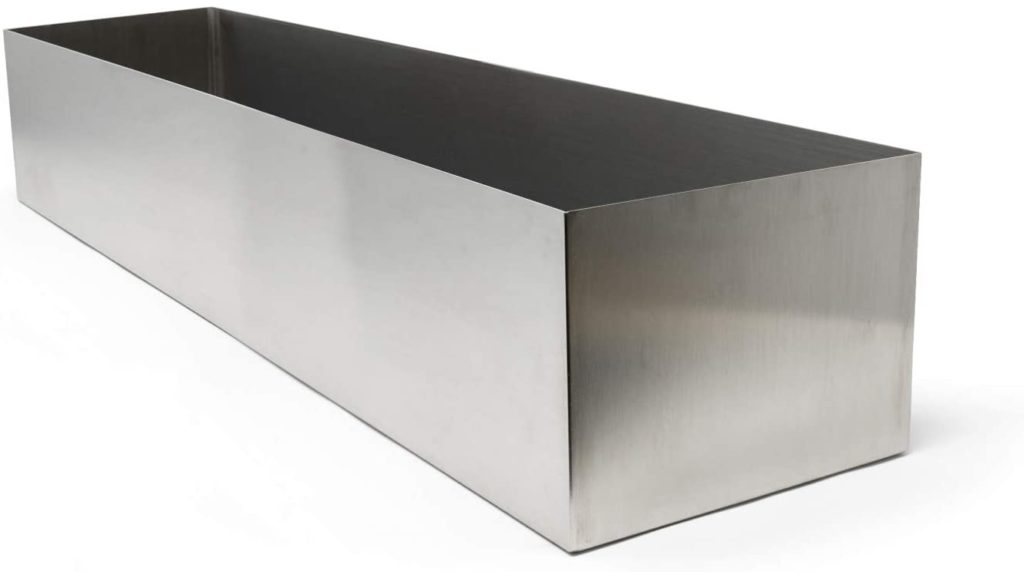 Quick Summary
Benefits
1.5mm Stainless Steel: This is a high quality, sturdy item. It should be very long lasting. The thick steel also gives this window box a real look of quality.
Modern Style: A very slick item. Will look good in a modern house or add a classy contrast to an older style building.
Rubber Pads: The box comes with four rubber pads to put underneath. If you want to attach it to a wall you will need to buy brackets.
Different Lengths: A range of different sizes means you can chose the one that suits the space you have in your home. Anything from 16″ to 32″
Different Widths: Not only can you chose how long the box is you can chose how wide you want it too. Chose either 3.125″ or 7.875″ wide. This means you can fit the slimmer one on a small window sill.
Good for Smaller Vegetables: The slimmer ones would be good for chives and onions.
Why on Our List?
This one makes our list because it's a very high quality product. You can also chose a slim size to fit on smaller window sills.
Please Note:
Not all window boxes come with wall attachments please check before you buy.
We hope you enjoyed our best widow box for vegetables selection. Please let us know in the comments which one you liked best. If you have any suggestions for others please also let us know in the comments. Thank you.