Traditional clay pots can be a real nuisance sometimes. They're heavy, they break easily, and they take up lots of space. Mr Stacky Planters on the other hand are light weight, they won't break and they totally maximise any small space. They're even suited for use inside your home. In this Mr Stacky Planters review, we'll be going over the pro's and cons of this handy little range of stack-able pots.
Mr Stacky Planters Review
1) Mr Stacky Five Pot Strawberry Planter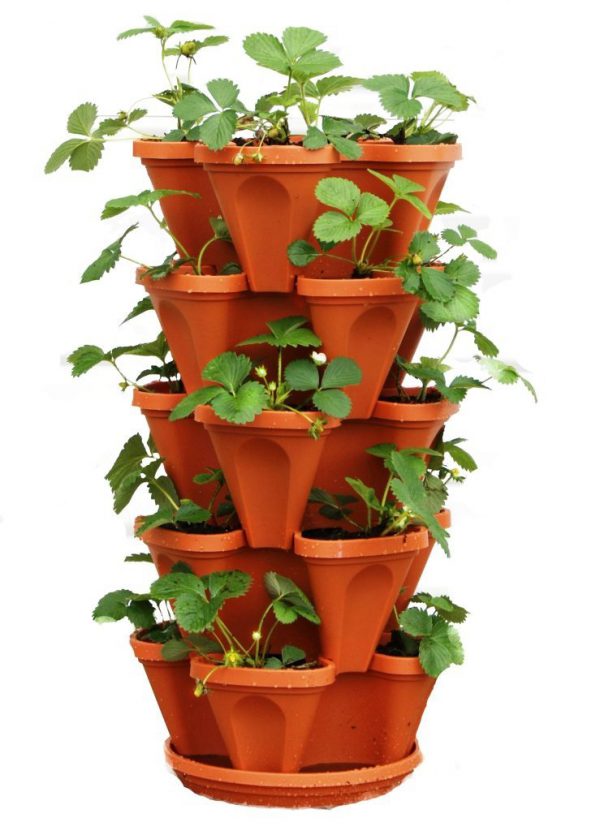 This is the best selling item of the Mr Stacky range. It gives you five pots and twenty growing slots. This will allow you ample space to develop a small crop of strawberries in limited garden area.
We give this item an 8/10
Full Retail Price: $59:99
Price Assessment: Great Budget Buy
Good For: Berries, Strawberries, Herbs and Lettuces and many other vegetables.
Outdoors: Yes You Can
Indoors: Depends on the size of your home.
Area Required: Jut over 1 Foot SQ and 28″ high.
Material: Food Safe Polypropylene #5
Growing Capacity: 20 Plants of Your Choosing
Number of Levels: Five Levels
Different Colors: Yes
Extendable: Yes
Good To Go: Easy Assembly At Home
Extras Required: Soil and Strawberry or Other Plant Seeds
Not Just Strawberries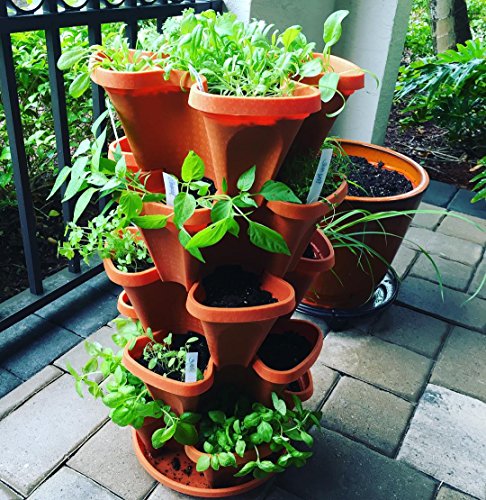 What are the Benefits?
Cheap Price:  When on a deal this product can be bought for as little as $37:99. Compared to many other planters this is a bargain.
20 Growing Slots: You can grow 20 plants of your liking in a very small space.
Easy Set Up: It's actually very easy to assemble. Just stack the pots on top of each other.
Small Space Required Many people also  like it because it takes up very little space. At just 12″ by 12″ and 28″ high this item can potentially fit in your home or on a small patio.
Extendable to Grow More Plants: The stack-able layers mean you can buy more to make the planter even bigger. Extra individual layers can be bought to expand your growing capacity.
Fast time to harvest: The makers claim you can harvest your strawberries in just 28 days after planting them.  This is a fairly quick turn around. This claim is supported by many customers' online comments.
Not much soil needed: Only a small amount of soil is required to fill the pots. Just 22.5 Quarts will be enough to get you started.
Self standing: No support is required as this is a freestanding unit. Although some customers noted that it may be useful to  secure it to the ground. Mr Stacky recommend using a plastic pipe.
Inside or Outside: You can potentially use the vertical planter either inside or outside of your home.  This gives you the potential to grow all year round.
Safe For Growing Food: Food safety is guaranteed with their food safe Polypropylene #5 materials. This is the same material that food companies use to make packaging for things like yogurts.
Light Weight And Strong: The plastic is strong, durable  and light weight.
Not Just Strawberries: You are able to grow more than just strawberries. Other berries and herbs can also be grown.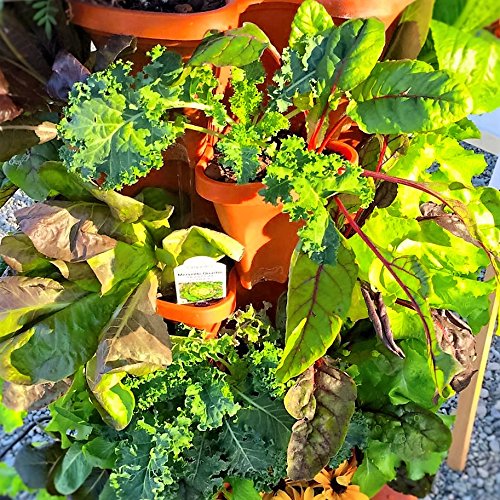 Very Easy Watering: A special water flow through system means that you only need to water the top level. Simply pour some water into the upper tier and it filters down through the other layers.
Three Different Colours: For the discerning buyer you can select one of three colours. Terracotta, green or an ff white colour.
Easy Maintenance and Care: As with other towers, the maintenance is easier than planting in traditional vegetable gardens.  There is no need to for excessive weeding and turning over beds.
Please Remember
Unless you are going to use soil from your garden, you will need to buy soil to fill the planter.
What You Can Grow?
In reality you can grow just about anything in these planters.
You can grow tomatoes with a bit of external support. Peppers and cucumbers and even squashes are possible.  If you use the bottom layers the cucumbers and squashes can trail onto the ground.  Beans, chillies , chives and spring onions can also be grown.
All herbs are of course no problem.
 What Are Customers Saying?
As usual we took a look through a number of merchant websites and read real customer reviews so you don't have to.
Amazon
From 87 reviews the Mr Stacky Strawberry Planter gets 4/5 stars.
55% of buyers had given the vertical tower 5/5 stars.
The vast majority of customers appear to be completely happy with their purchase.  Many stating that they have grown strawberries and had good results.
Other comments include:
" Everyone should have at least one"
 "It really does water from the top down"
"Great Product Cheaper than retail Store"
Negative Comments
Please Note: these negative comments are in the tiny minority of customers but we think we wouldn't be doing our job properly if we didn't include them.
One customer who wasn't happy said that the product fell over.  Mr Stacky customer care had replied and advised the customer how to sort the issue.  Customer care and instruction do in some cases recommend securing  the planter with a pipe.
One other complaint was that the product seemed flimsy.  The product is advertised as lightweight but strong. We couldn't see any comments saying that the product had actually broken. There is no pleasing some people 😉
Color wise, It seems the "terracotta" is brighter than some people expected. So if you decide to buy maybe take that into consideration.
A couple of customers had said that their results were not what they expected. However once again customer care had replied and offered solutions to their problems.
Please Note Again:
These negative complaints are a very small percentage of customers but we feel it our duty to make you aware.
Despite these negative comments, the overwhelming response was positive with an overall score of 4/5 stars from 88 reviews. Also it appears that customer care are very willing to help if any problems do happen to arise.
Mr Stacky Planters Review Verdict
Considering all aspects including price, benefits, customer care and customer reviews we give this product an 8/10.
No product is perfect and the same goes for this one. However, it's affordable, easy to use and has a good back up service through their Facebook page. If strawberries, lettuces or herbs are your thing this is a great purchase.
Click here for the best price.
2) Mr Stacky Five Tiered Vertical Garden Planter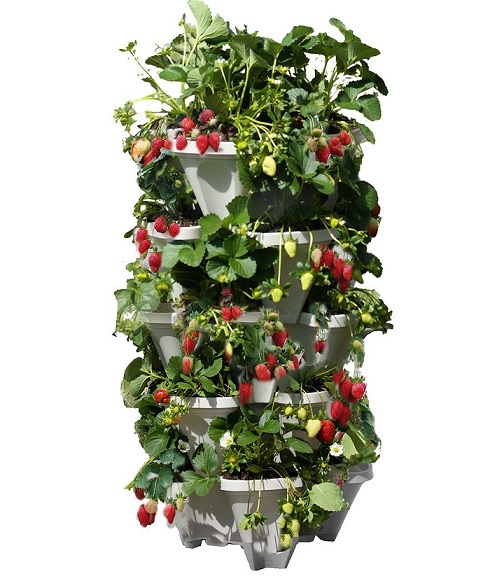 We don't have to go into too much detail here as this item is almost exactly the same as the Strawberry Planter above.
The main difference here is that the pots are larger and you can grow more and bigger plants. This gives you a wider range of options in terms of what you can plant.
Yes the strawberry planter allows a good range of growing opportunity but because of the larger pots, this one gets a higher score from us.
We Score This Item 8.5/10
Full Retail Price: $99
Best Price Here:
Price Assessment: Solid Budget Buy
Good For: Berries, Strawberries, Herbs and Lettuces, many vegetables
Outdoors: Yes You Can
Indoors: Possibly
Area Required: Just Over 16″ by 16″ and 38″ High
Material: Food Safe Polypropylene #5
Growing Capacity: 20 Plants of Your Choosing
Number of Levels: Seven Levels
Different Colors: Yes
Extendable: Yes
Good To Go: Easy Assembly At Home
Extras Required: Soil and Plant Seeds
The pots are 16 inch pots rather than 12 inch and the plastic is thicker and more durable.
This will allow you to grow some vegetables and bigger plants. It's more expensive but if you want the option of growing a few veggies or bigger plants this a better choice.
Please note, as these pots are larger they will also need more soil to fill them.
What Are the Benefits?
All the same benefits from the strawberry planter apply including:
Cheap Price: $99 is a fair price.  Any deals on this make it an excellent price for a stacker with this much capacity.
Easy watering: just water the top.
Easy Maintenance: much easier to maintain than traditional flower beds or vegetable patches.
Extendable: extra layers can be added.
Larger Pots: This planter has larger pots than the strawberry planter. Your growing ability is therefore increased.  This makes it easier to include things like  cucumbers, squashes, beans, tomatoes and others.
Fast Growing Time: makers claim plants will grow faster in the stacker rather than in the ground. 
What Are Customers Saying?
Customer reviews are very similar to the strawberry planter. Although the overall average rating is actually higher for this product.
As we don't wish to bore you by repeating ourselves lets just say the vast majority of customers on major retailing sites were very happy with this item.
Vertical Garden Planter Verdict
With all the same features as the strawberry planter plus having more growing space we think this one is even better, so we score this item with an 8.5/10.
Click here for the best price.
3) Mr Stacky 3 Tier Herb Planter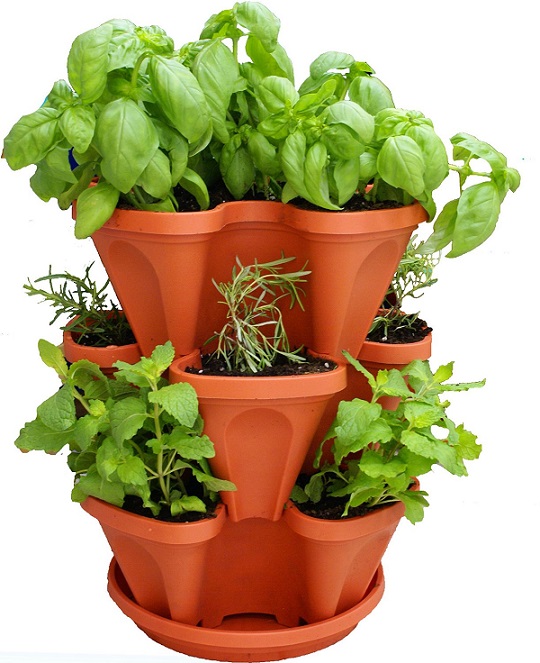 This the smallest of the the lot. But if all you're looking for is to have a herb garden inside your home this is a very suitable option. It's only 12″ by 12″ and 18″ high.  You could easily use this one inside your home for herbs, lettuces, and of course strawberries.
We Score This Item 8.5/10
Full Retail Price: $34.99
Best Available Deal: Amazon
Price Assessment: Great Budget Buy
Good For: Berries, Strawberries, Herbs and Lettuces
Outdoors: Yes
Indoors: Yes
Area Required: Just Over 12″ by 12″ and 18″ High
Material: Food Safe Polypropylene #5
Growing Capacity: 12 growing slots
Number of Levels: Three
Different Colors: Yes
Extendable: Yes
Good To Go: Easy Assembly At Home
Extras Required: Soil and Plant Seeds
What Are The Benefits?
In terms of features, once again it's pretty much the same as the other two. Just a bit smaller. Of course it's also more narrow than the vegetable planter.
We'll keep this one short as, from reading this article, you will already know the benefits of these particular systems .
Safe to say, that if you're looking for a small herb garden in your home you won't go far wrong with this one.
3 Tier Herb Planter Review Verdict.
It's small, compact and ideal for herbs in your home. On the downside it won't produce a great amount of herbs. So if you want to grow more we would recommend the strawberry planter at the top of this page.  We score this 8/10
Click here for the best price. 
That concludes our Mr Stacky Planters review. We hope you found this helpful.
See Our Number # 1 Planter Here
Please let us know of your experiences with any of their items in the comments below. Also feel free to comment with any questions you may have. We'd love to hear from you.