Here's Our Best Strawberry Planters Selection.
We have selected a nice variety so that there's something to suit everyone.
1) Mr Stacky Strawberry Planter: Full Review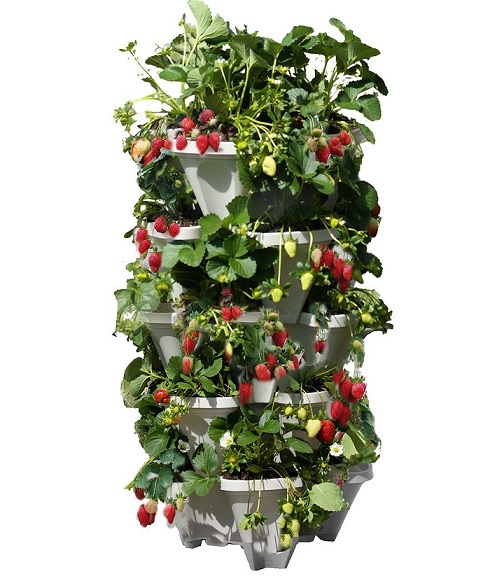 The Good Bits:
20 Plants
Easy assembly
You can buy extra layers
Just water from the top
Safe for growing food
Very little space needed: 12″ by 12″ and 18″ High.
Things To Think About
Water doesn't always disperse evenly from the top
Can possibly be knocked over because it is lightweight
Better for indoors
Other similar planters available more cheaply.
Why on Our List?
These guys make our list because they are practical, reliable, and have a range of sizes available.
3)

Bloem Bagz Strawberry Planter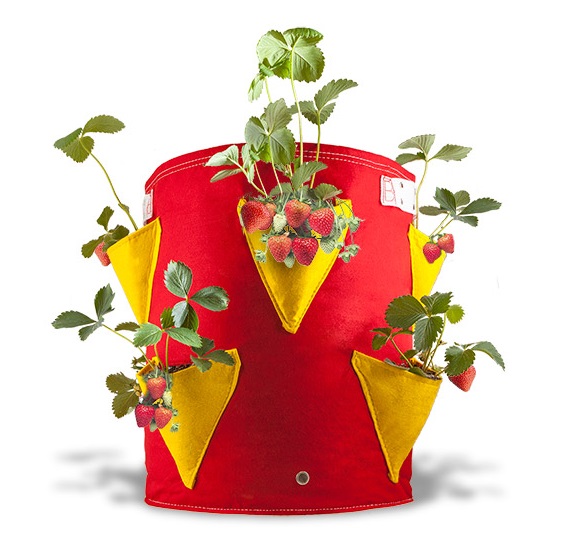 The Good Bits:
 8 growing pockets
Easy assembly: It's a bag!
Easy storage
13.75″ x 17.75″ inch height
Strong handles for moving
100% Recycled Materials
Stylish design.
8 colours available.
Reusable
Double layered fabric
Things To Think About:
Not as durable as traditional clay pots
May not be suitable for some strawberry plants
Needs regular watering
Can have pests and weeds
Why on Our List?
This planter makes our list because it's stylish, Eco friendly and very easy to pack away in winter.
Buy The Bloem Bagz Planter Here
4) Enamelled Hanging Strawberry/Herb Planter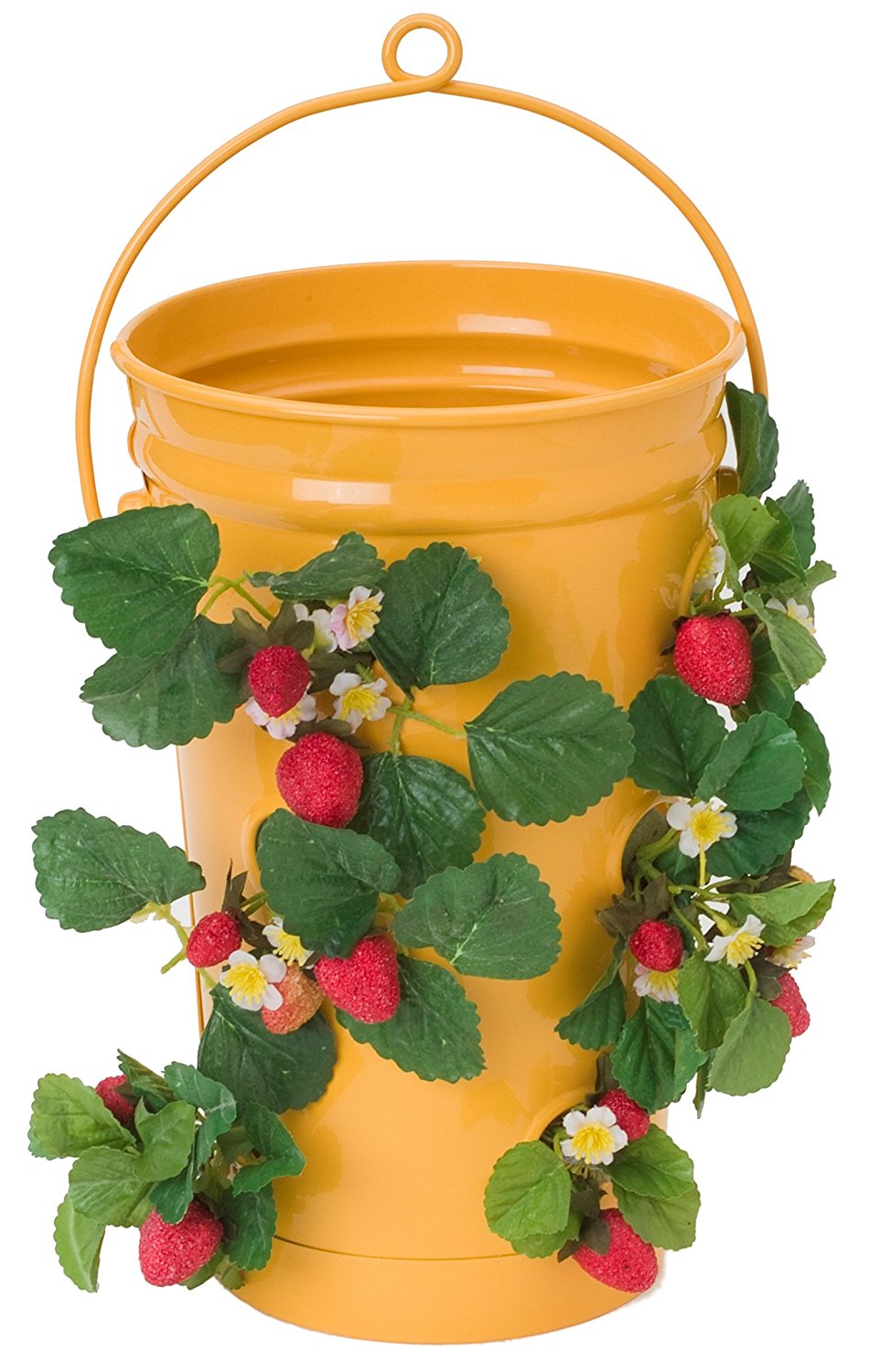 The Good Bits:
20 Plants
rustic / stylish
Simply fill with soil
Just water the top
Hang or place in your garden

Enamel paint stops rust

Multiple uses
Things To Think About
Enamel coating will chip overtime
The base isn't covered in enamel.
 Limited drainage holes
Suitable for small crop of strawberries
Why on Our List?
This planter makes our list because it looks good, you can hang it up or place it anywhere in your garden, and It's a good quality item at a very fair price.
5) Vertical Wall Garden Planter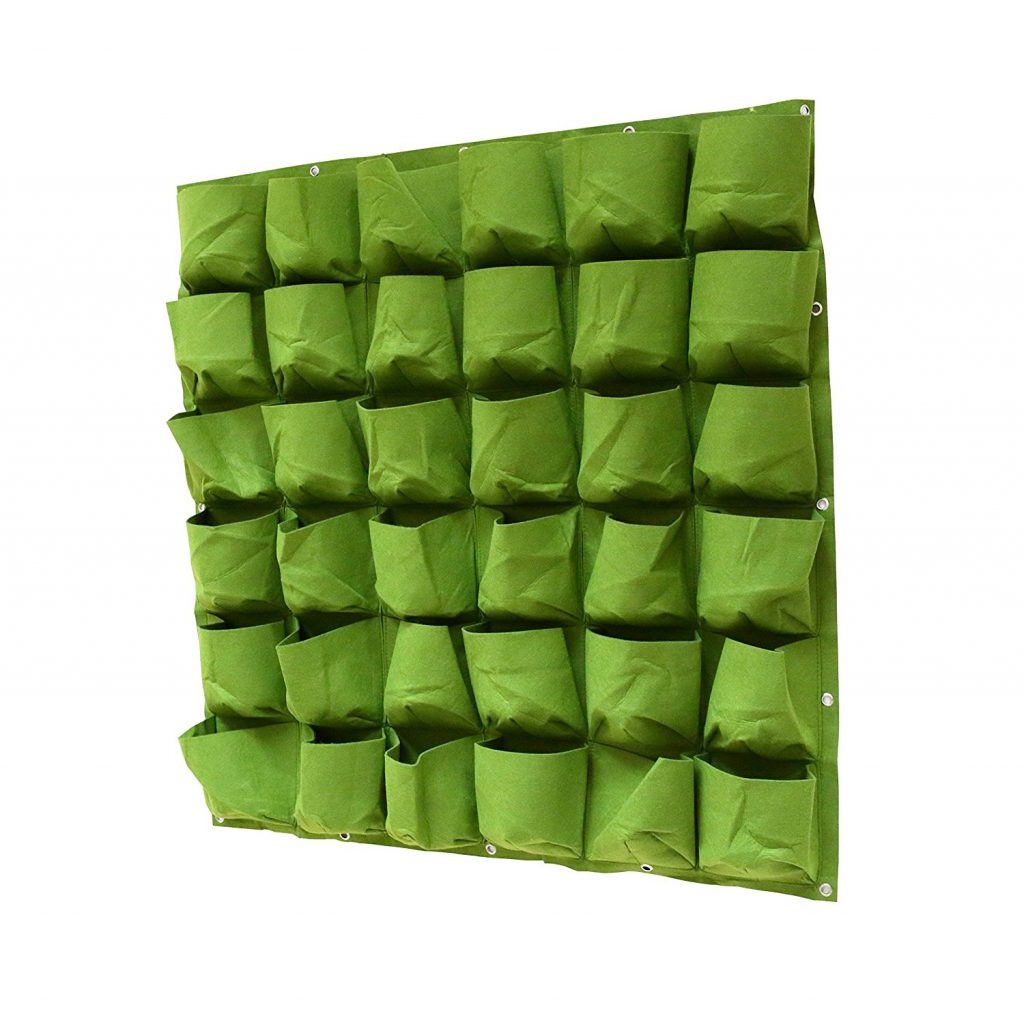 The Good Bits:
 36 Plants
Just fill up with soil
Easy to hang up and move around
 Can use for herbs and flowers also
Empty and pack away easily
Eco friendly materials
Why on Our List?
This hanging planter is extremely versatile. You can hang it against any wall. You can  use a few together and cover and entire wall space. This also scores extra points for being Eco-friendly.
6)  5 Strawberry Hanging Bags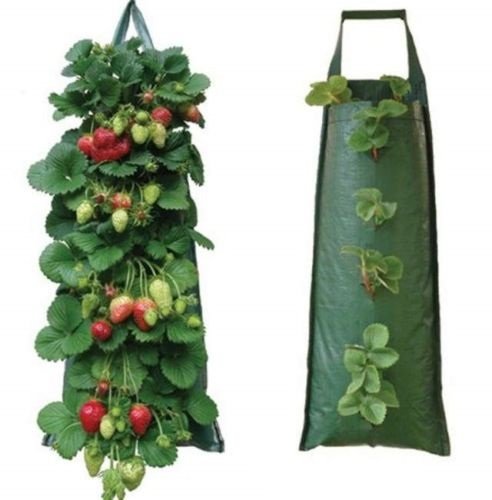 Quick Summary
80 plants!
Easy assembly
Light weight
Use for more than strawberries
Easy storage
Long lasting
Why On Our List?
These little bags are extremely cost effective, very easy to use and are tough and durable.
1 ) Garden Tower Project (Garden Tower 2)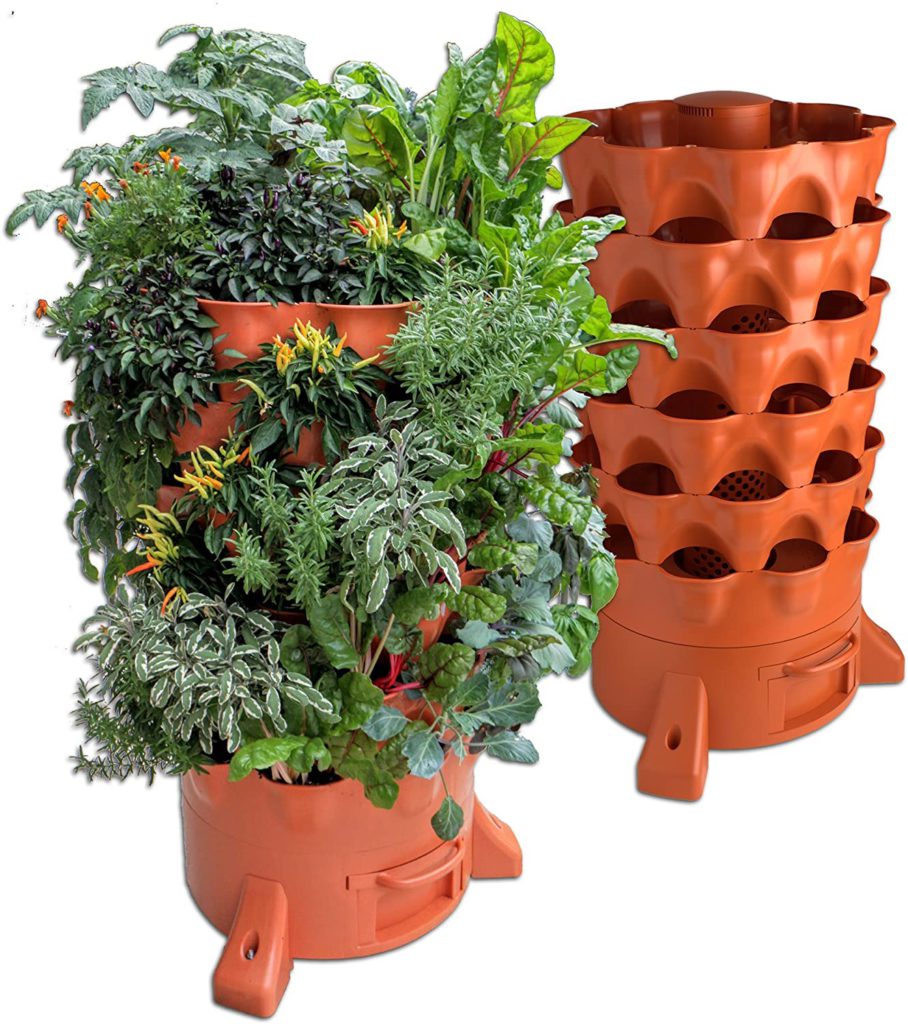 Quick Summary
Growing space: 50 plants!
Easy Assembly: Yes – stack at home
Add More Layers: You can buy extra layers
Rotates: It swivels on rollers.
Water From Top Down: Just water the top
Food Grade Plastic:  Safe for growing food
Very Little Space Needed: 4 square feet
Can Make Compost: Special middle core for compost making.
Inside and outside growing: you can grow inside and outside.
Easy Maintenance: much easier than a normal garden.
This one's a bit of a Rolls Royce of strawberry planters. It can hold an impressive 50 strawberry plants making it a mighty beast  . Not only that, it's well equipped for other vegetables if you so desire.
Why On Our List?
This one makes our list because it can grow fifty plants, can make compost and has a multitude of extra features. 
Leave a Comment
Please tell us what you think of our best strawberry planters.  Are they Ok? Do you know of anything better?  Please tell us your opinions, good or bad, in the comments below.