1 ) Veradek Brooklyn Rectangular Window Box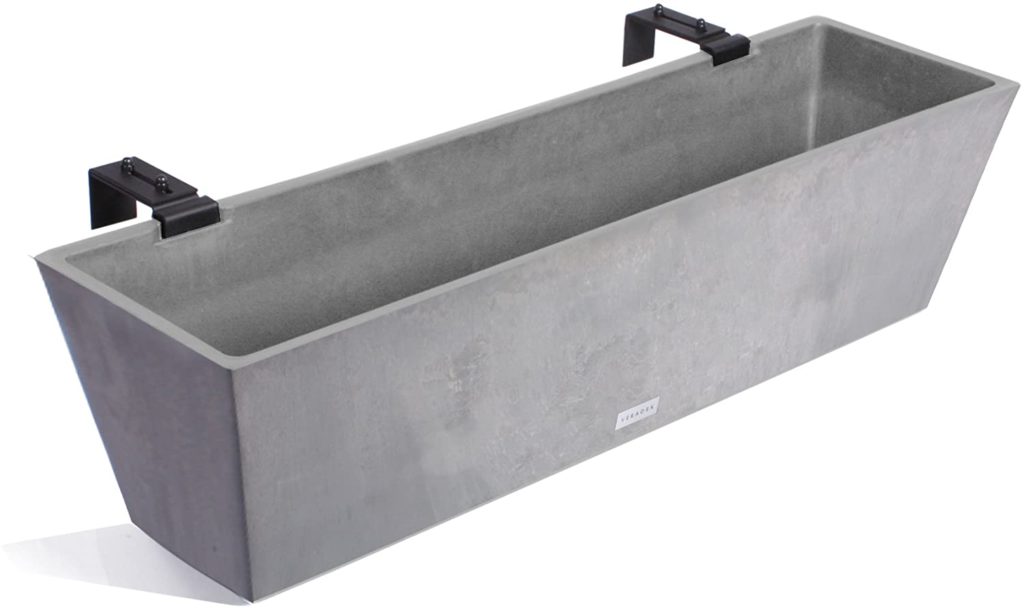 The Best Bits:
High Grade Polyethylene
Mountings Included
Frost Resistant
Very Durable
Light Weight
Slick Design
Things To Think About:
Drainage holes may not be enough for very heavy rainfall.
The plastic material fades colour over time
The mounting brackets do not suit all railings. Check they are correct for yours. 
Not suited for plants with large roots.
Why on Our List?
Because it will last a lifetime. It is very strong and lightweight. It comes with wall mountings. It has an appealing, minimalist look.
Buy Veradek Brooklyn Window Box Here
2) Solid Acacia Wood Window Box 24″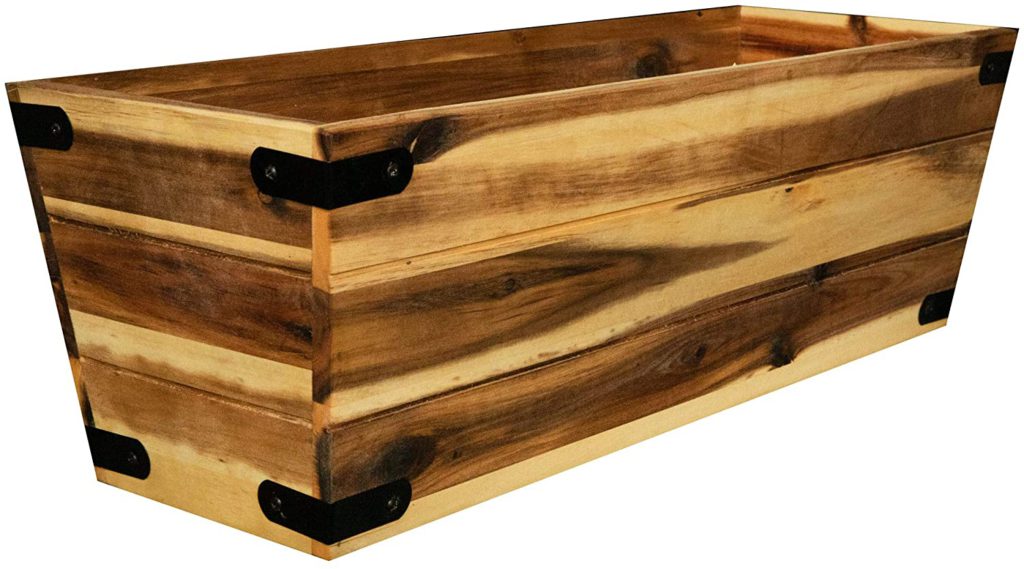 The Best Bits:
Easy To Assemble
Sturdy
Great Value
Tropical Hard Wood
Drainage Holes
Vegetables, Herbs, Flowers
Outdoor or Indoor
100% FSC Certified Wood
Size 24″ Length or 31″ Length Available.
Things To Think About:
The wood can crack and damage and may require regular maintenance. 
It's pretty heavy so securing it correctly is important. 
Because it's made of wood, rain or severe weather conditions can cause damage. 
More expensive than some other materials.
Why on Our List?
This window box makes our list because it's all natural, made in a sustainable manner, and is of a good quality. It might be harder to maintain but we think it's worth it. 
3) Achla Designs Galvanised Steel Window Box

The Best Bits:
Classic Design
Galvanised Steel
Drainage Holes
Different Colours and Finishes.
Very Strong
Different Sizes Available 22″ Long Up to 35.5″ Long
Things To Think About:
May rust over time. Although sturdy, over a few years it may rust. 
The tinny look might not be to everyone's taste. 
Not easy to paint or stain
Why on Our List?
This window box is highly durable. Not only can you pick form a range of sizes, you can pick from a range of colours and finishes too.
4) Window Box with Cocoa Moss Liner

The Best Bits:
Heave Gauge Steel
Natural Coco Liner
Powder Coated
Adaptable Mounting Pieces
Authentic Antique Look
Size 43″ Long x 8″ Depth x 9″ Height
Things To Think About:
The Cocoa moss liner holds water and can cause water logging if there is lots of rain. 
In very dry weather the cocoa moss dries out so the soil needs watering often. 
Mould and mildew can grow in the moss if it stays damp for long periods. 
This natural material biodegrades over time. It won't last for many years. But the moss lining can be replaced. 
Why on Our List?
This one makes our list because it's durable, strong and has a real classy, antique look. Probably not meant for vegetables but we just love the look. Despite the possible issues we love it. Top Tip! You could line the centre with a large plastic bag and avoid many of the problems. 
5)

Bloem Dura Cotta Window Box Planter

Best Bits:
Light and Strong
Removable Saucer Tray
Drainage Holes
Matt Finish
100% UV Stabilised Plastic
Different Sizes Available 18″ – 30″ Long
Many Different Colours
Things To Think About:
Drainage holes maybe small for heavy rainfall
Plastic material likely fade over time.
Not suitable for very hot climates. 
Bottom a bit narrow for big plant roots.
Why On Our List?
This box is great value. It's light weight, you can choose from a range of sizes and colours to suit your taste and needs. Also UV 100% resistant.
6) Buhbo Modern Trough Rectangle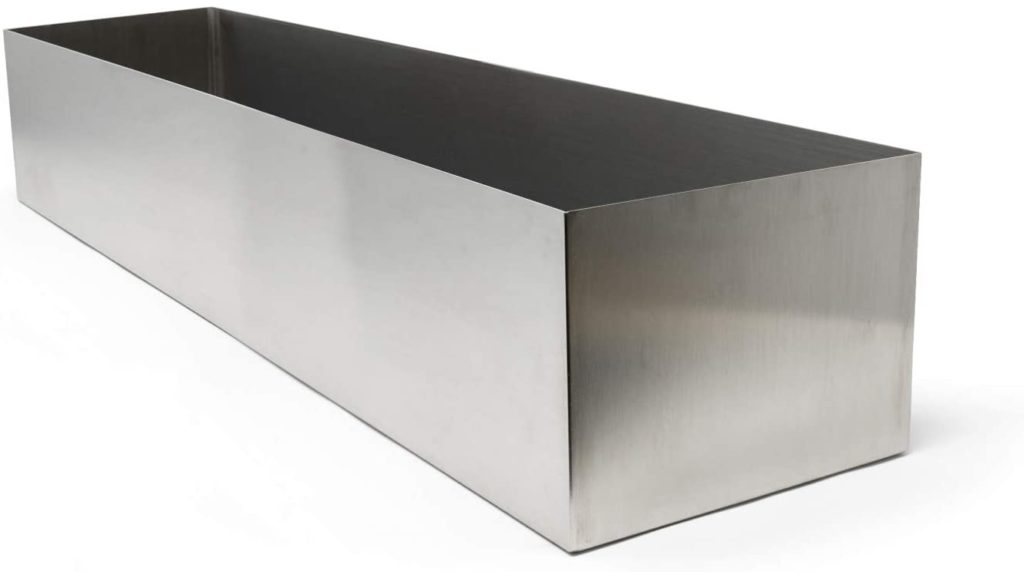 Best Bits:
1.5 mm Stainless Steel
Modern Style
Rubber Pads
Different sizes – from 16″ to 32″ Long
Slim Or Fat – Fit On A Window Sill
Good for smaller vegetables
Things To Think About:
Small drainage holes
Quite small for many vegetables 
Probably more suited for herbs
Why on Our List?
This one makes our list because it's a very high quality product. You can also chose a slim size to fit on smaller window sills.
Please Note:
Not all window boxes come with wall attachments please check before you buy.
We hope you enjoyed our best widow box for vegetables selection. Please let us know in the comments which one you liked best. If you have any suggestions for others please also let us know in the comments. Thank you