We all love a few herbs with our favourite home cooked dishes.  If those herbs are nice and fresh it makes the experience even better.  Lots of people are deciding to grow their own herbs at home for this reason.  However, growing herbs in vegetable patches or flower beds leaves them very exposed to the elements and to pests.  Often the plants don't manage to grow properly or their leaves get all nibbled.  Growing in colder months is also very difficult.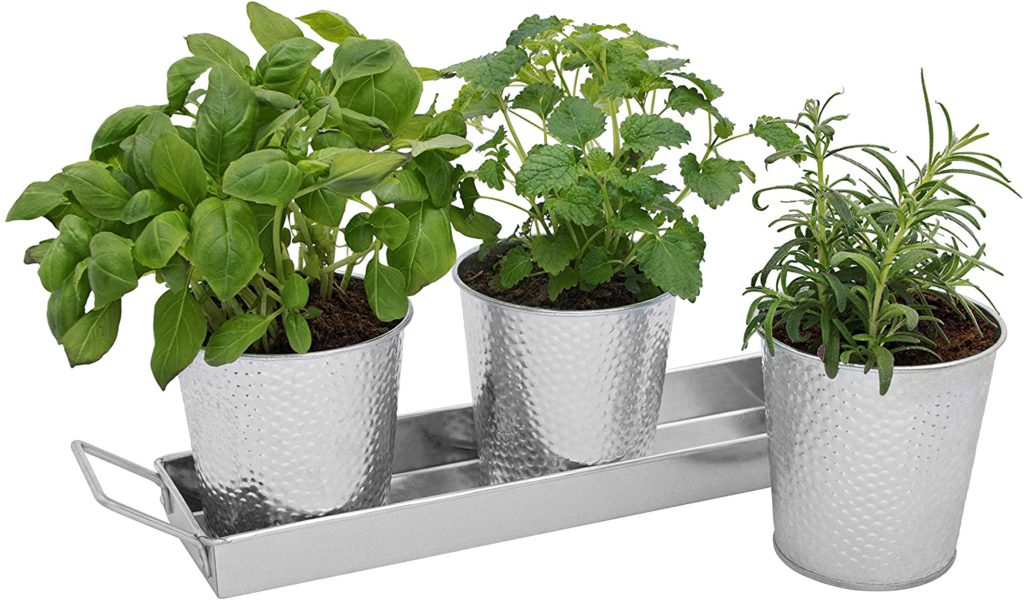 With any of our best containers for growing herbs you get many advantages. You can bring them inside which avoids almost all pests. You can also grow your herbs at any time of year. Imagine having fresh herbs all through winter! You can also move them around the garden to catch the best of the weather in other warmer months.  General maintenance is also much easier than a flower bed or  vegetable patch. Finally, and most importantly for many, you get to pick a container that will look great in your home or on your patio.
8 Best Containers For Growing Herbs.
1) Barnyard Designs Herb Pot Planter Set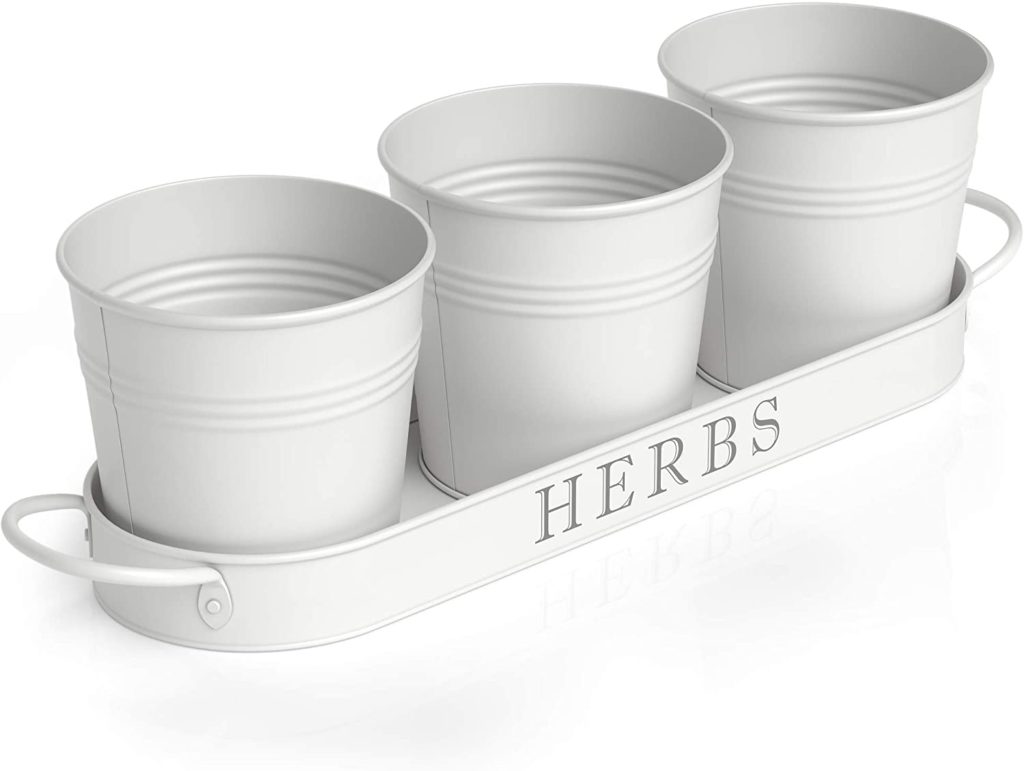 Quick Summary
Metallic Painted Pots
Available in Two Colours
Set of Three
Come with Tray
Drainage Hole in Each Pot
Use Indoors Or Out
Convenient size: 4″ x 12.5″ (tray) 4.25 w x 4 H  (each pot)
Benefits
Metallic Painted Pots:  Metallic pots rather than ceramic are lighter weight and are way less likely to break if they are dropped. 
Tray: The tray keeps the three pots together and holds any water that may come out the bottom of the containers. 
Two Colours: You can select from a creamy, rustic white colour or a playful turquoise 
Drain Holes – Drain holes allow excess water to come out and stop the herb roots from becoming soggy. The water is caught in the tray which is very easy to clean if need be. 
Use Indoors or Out: Because the pots are painted they won't rust so easily and you can use them outside. Also because this set is quite small you can use them inside on a window sill or small surface. 
Convenient Size:  At just 4 inches wide and twelve and a half inches long, the tray can easily fit on just about any window sill or small surface.  Each pot is 4.25" Width and 4" high. The tray is 12.5" long x 4" wide x 1" height. 
Why On our List? 
This is a high quality product at a cheap price and we love the simplistic design. 
2) Pier Surplus Wooden Small Herbs Pots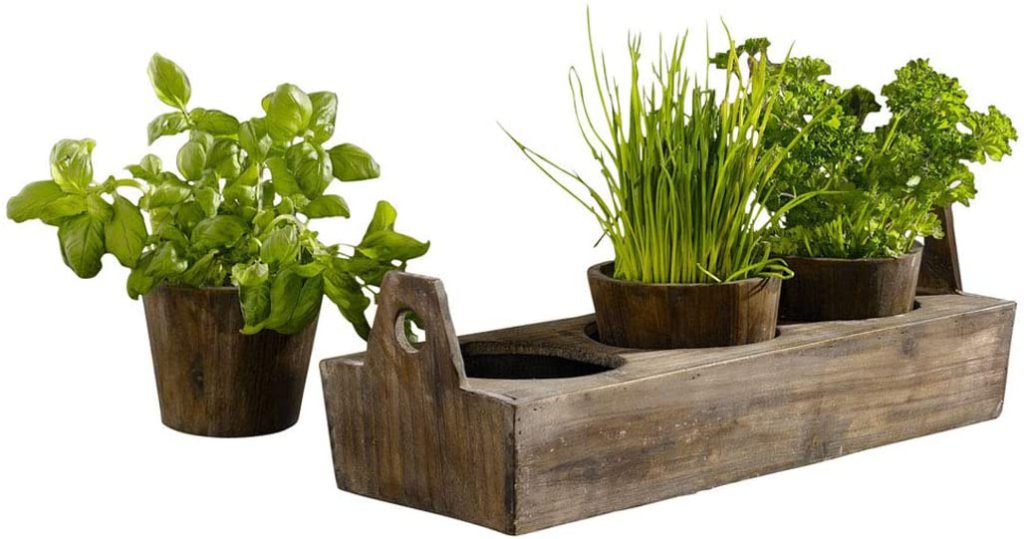 Quick Summary
Stained Protected Wood
Light Weight
Removable Pots
Plastic Lined
Indoor or Out
Rustic Style
Size: Tray 7″ x 20″ Pots 4.75W x 4″ H
Benefits
Stained Protected Wood: The wood has been stained to give it an aged look and also protect it at the same time.
Light Weight: Despite being quite big this set is light weight, easily movable and not too chunky. So it's not going to mark surfaces so easily.
Removable Pots: You can take the pots out to individually fill them with earth, clean them or whatever you need to do.
Plastic Lined: The pots have a thin layer of plastic to stop them leaking. We would advise being careful to only add small amounts of water to your herbs because of this. Extra water won't be able to come out through a hole in the bottom.
Indoor Or Out: Because the wood has been stained, it is possible to use this herb pot set inside or outside. It's both light weight and durable.
Rustic Style: The rough style carpentry and stained wood give this herb planter set a charming, rustic feel. It will sit well in a modern or older home.
Mid Size: it's 7 inches by 20 inches. If you have a large window sill you could put this set on there. However, in most homes this will probably be better on a table or a patio.
Why on Our List?
This one makes our list because it light weight, durable and just kind of cool.
3) Warm Buy Plastic Pots (Great for Kids)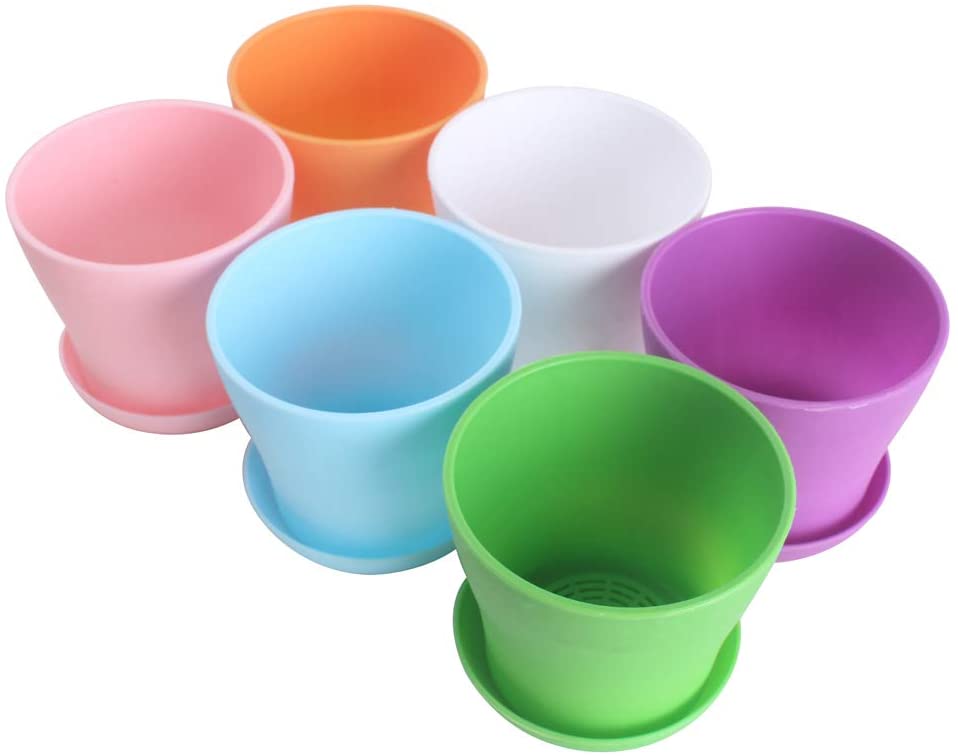 Quick Summary
Bright and Colourful
Light weight
Thick and Sturdy
Individual Drip Trays
Great For Kids
Size 3.8″ W x 3.3″ H
Benefits
Bright and Colourful: This set of containers for growing herbs comes in six bright, jazzy colours. They are a bit out of the ordinary and make for a fun addition to your kitchen or patio.
The colours are green, yellow, purple, blue, white and pink. Especially fun for kids learning how to grow herbs.
Light Weight: The plastic pots are lightweight and easy to move around. If you drop them they are nor so likely to mark surfaces or damage floors.
Thick and Sturdy: The thick plastic means these pots are not brittle. Unlike clay or ceramic pots they won't break if dropped. They are also built to last.
Individual Drip Trays: Each pot comes with its own drip tray. This means you can dot them in a number of different places and not have to have them all together. And of course the trays will catch any excess water.
Great For Kids: These herb planters are ideal for kids learning about growing small plants or herbs.
They are bright an colourful which makes them fun. They are also light and strong. This means kids can easily handle them and they won't break if they are dropped.
Why on Our List?
These herb planters make our list because they are just soooo good for kids.
4) MyGift Farmhouse Style Pots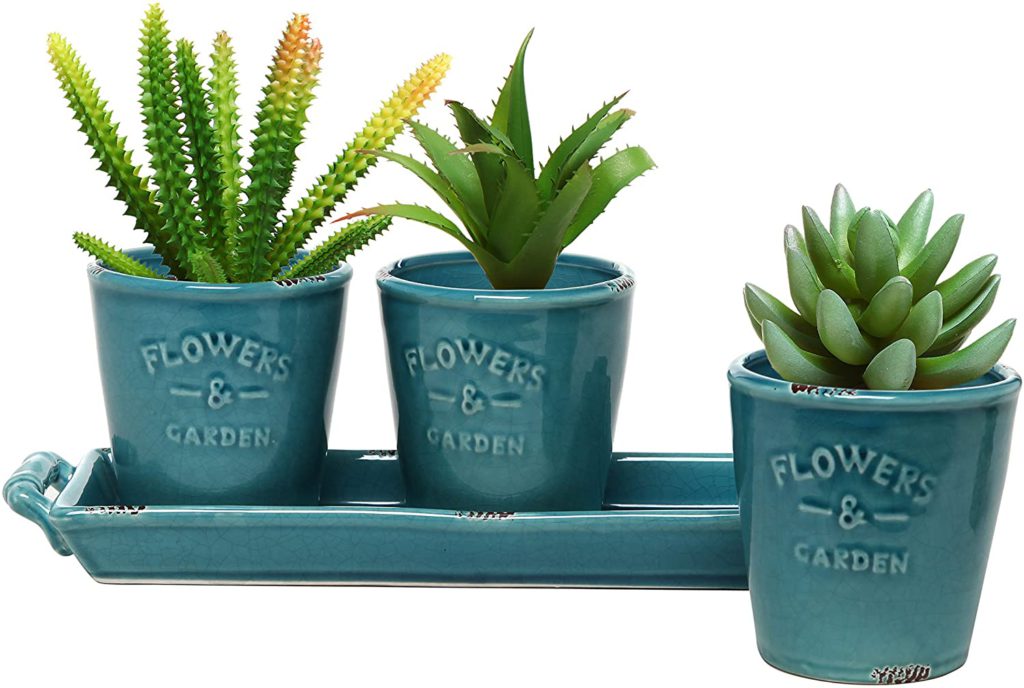 Quick Summary
Glazed Ceramic
3 Pots
Drip Tray
Rustic Look
Easy Clean
Size: 14.4″ L x 4.1″ W x 5.6″ H
Glazed Ceramic: The glazed ceramic surface makes these pots more durable. The coating protects the clay from the elements which means you can use this set of herb pots inside or outside.
3 Pots: Three pots allows you to grow three different herbs right next to one another.
Drip Tray: The drip tray will catch excess water and stop the roots of your herbs going all soggy. Don't go crazy with your watering though. The drip tray is quite small.
Rustic Aged Look: The glazed clay is deliberately not done perfectly to give an aged and classic look to these planters.
Easy Clean: The smooth surface of the glazed pots makes then very easy to just wipe clean.
Why on our list?
This little set makes our list because we love the rustic charm and they are of a high quality. Some customers say the pots wobble on the tray a bit but we don't see this as a major problem.
5) Rustic Wood Planter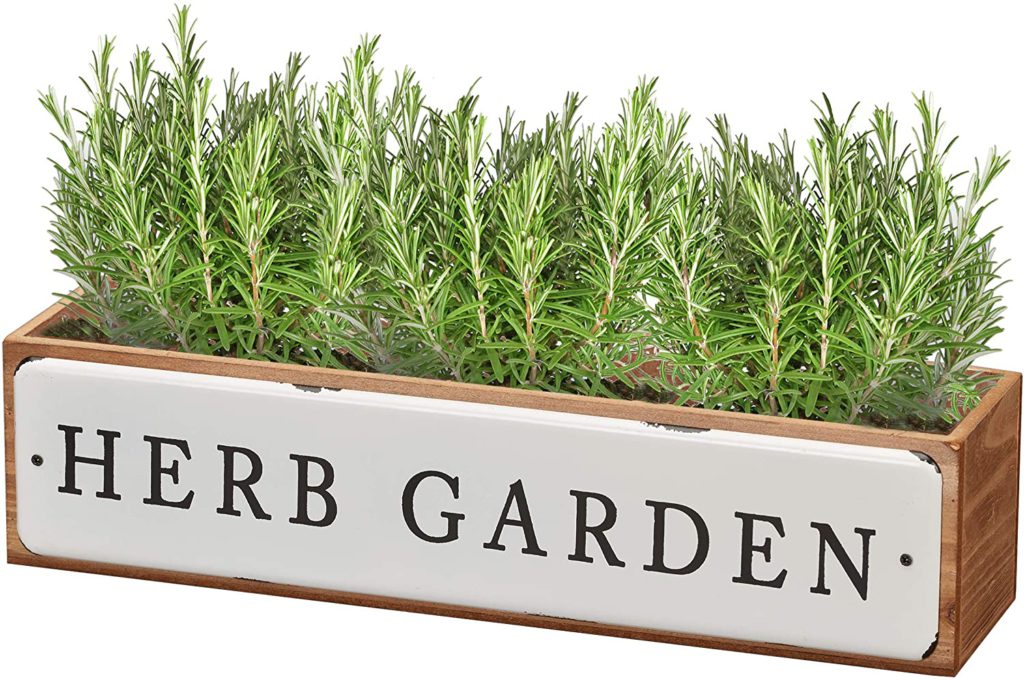 Quick Summary
Best Price Here
One large Unit
Distressed Wood
Fits on Window Sill
Plastic lined
Size 14.5 L x 3.5 W x 3.5 H
One Unit: One contained unit means you can lift and move it easily rather than having three separate pots like many of our choices here today.
More Herb to Space: You can also get more herbs in there compared to a three piece set that takes up the same amount of space in your home.
Distressed Wood: The distressed wood gives a charming and rustic look and feel to the product. (You may have guessed by now that we like rustic!)
This along with the painted metal plate on the front makes a very stylish piece.
Plastic Lined: A thin plastic lining helps to protect the wood.
Convenient Size: It's narrow enough to fit on most window ledges or won't take up too much space on a table.
Why on Our List?
This one makes out list because it fits onto narrow spaces, has the capacity for a lot of herbs and of course because it looks great.
6) Wood & Metal 3 Compartment Planter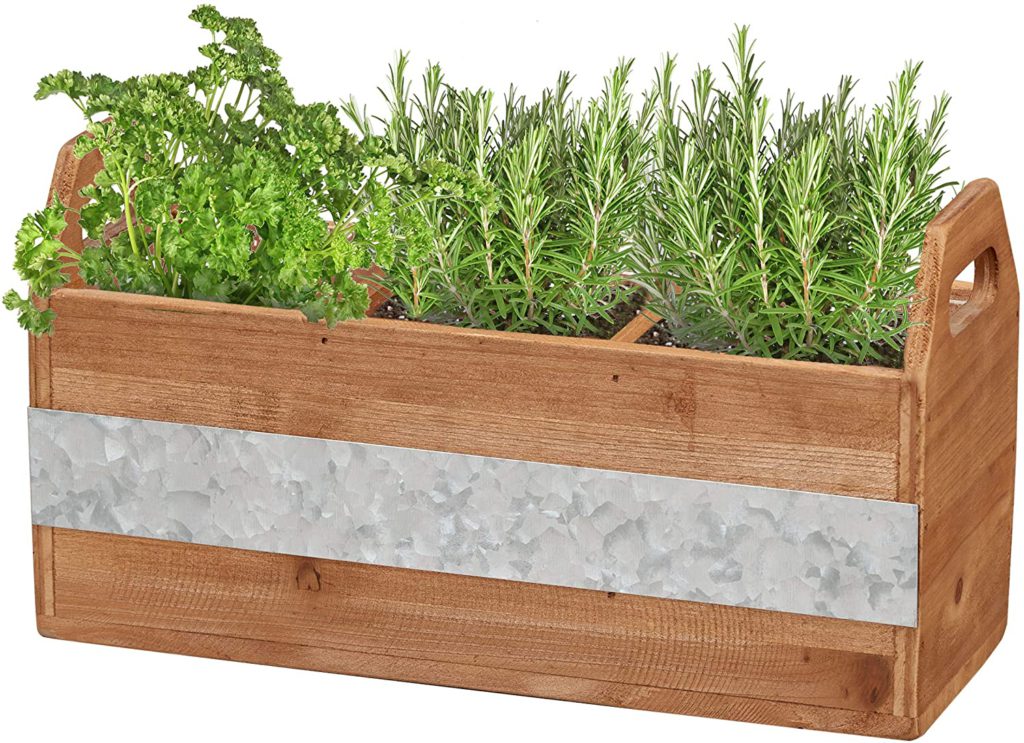 Quick Summary
3 Compartments
Plastic Lining
large But Convenient
Rough Natural Wooden Look
Size 12L x 4.5 W x 6″ H
Benefits
3 Compartments: This planter is spilt into three compartments that allow you to separate different herbs from each other.
Plastic Lining: Each compartment has its own lining helping to protect the wood.
Rough Natural Look: The imperfect finish on this trough planter makes it much more homely and natural looking.
Large But Convenient: This one is a bit larger than other planters in this list. So you can plant more herbs in this one. It is still small enough though to be used inside your house.
Size: It's only 4.5 inches wide and 12 inches long. This will easily fit on a table or shelf. If you have a wider window sill it should be able to go there too.
Why on Our List?
This trough planter makes our list because it is roomy yet can easily find a place inside your home.
7) Trio of Pots With A Copper Finish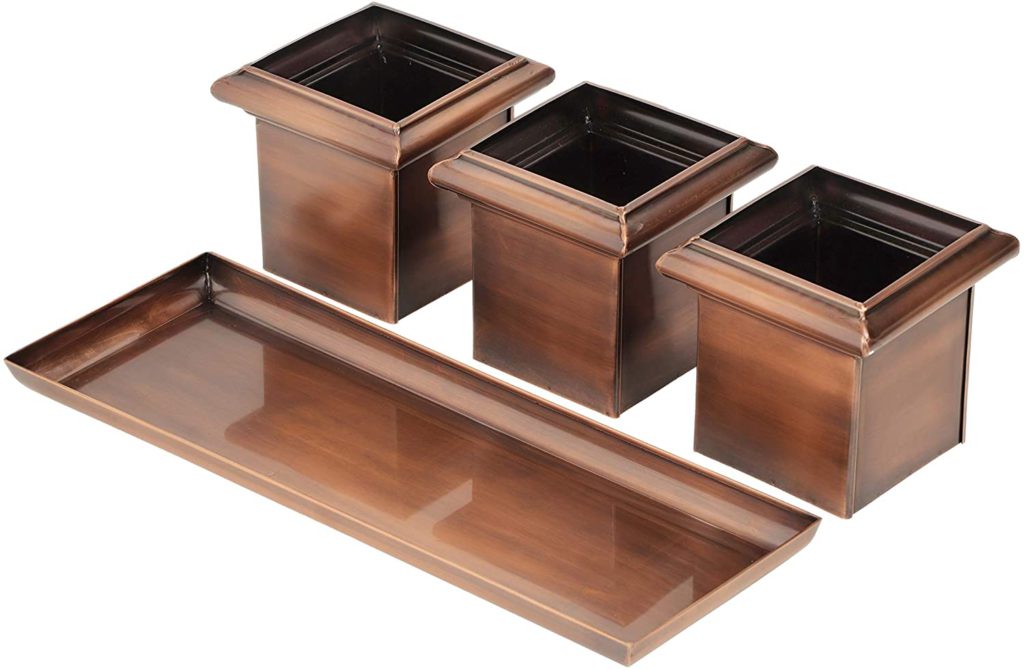 Quick Summary
Stainless steel
Copper Finish
Sturdy
Drip Tray
Easy Clean
Size: Tray 16.1″ x 5.1″ Pots 3.9 Base x 5 H
Stainless Steel: The three pots are made of stainless steel. This makes them strong, light and durable. They are very unlikely to rust for a very long time too.
Copper Finish: They are finished with an elegant antique copper effect. Making them classy and stylish at the same time.
Sturdy: Made from stainless steel they are very difficult to break. Unlike ceramic or clay planters, these guys aren't going to break if they fall on the floor.
Drip Tray: They are on a drip tray. Just like all the others on this list, the drip tray will help catch excess water from the plants.
Easy Clean: The smooth surfaces mean these swanky little pots are easily wiped clean.
Size: At 5.1 inches wide you may be able to fit on a windowsill. If not it will go easily on a shelf or sideboard.
Why on Our List?
This one makes our list because of its classy copper looks.
8) Galvanised Planter Pots with Tray Set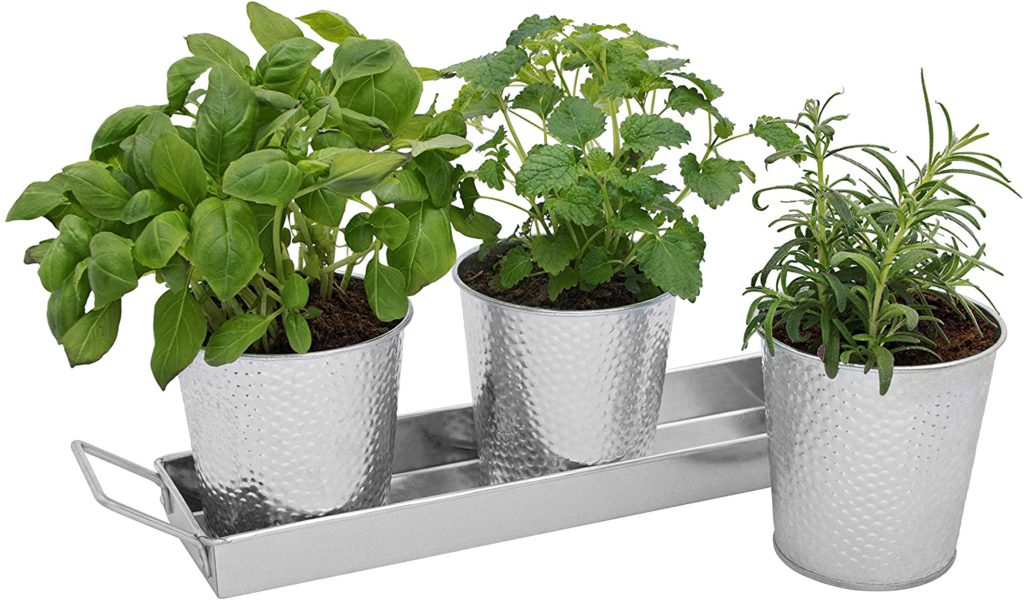 Hammered Steel 
Modern Clean Look
Drip Tray
Drainage Holes
Three Pots
Size Tray – 12.8″ x 3.5″ Pots 4.3 W x 4.3 H
Benefits
Hammered Steel: These pots are made of hammered steel which makes them sturdy and light weight at the same time.
Modern Clean Look: The shiny steel gives these three pots a clean cut, modern look. This would go great in your kitchen or on a patio.
Drainage Holes: A hole in the bottom of all three pots allows water to come out and stop the roots getting too much water.
Drip Tray: The drip tray catches the water from the pots. As it is shiny and smooth, it is also very easily cleaned.
Small Size: Should fit easily onto most windowsills. Great on shelf also.
Why on Our List?
This one makes our list because it's great value, strong and sturdy, and very stylish too.
We hope you enjoyed our list of best containers for growing herbs. Please let us know in the comments below what your favourite one is. Thanks.