Do you have weeds? Do you want to improve the quality of your existing grass? Are you starting from scratch? The best fertilizer for grass varies depending on your own personal needs.
Each situation has it's own requirements and that's why we've selected the best fertilizer for each problem you might have. Whether you're starting a new lawn, sorting out existing grass or feeding in different seasons there's something on this list for you.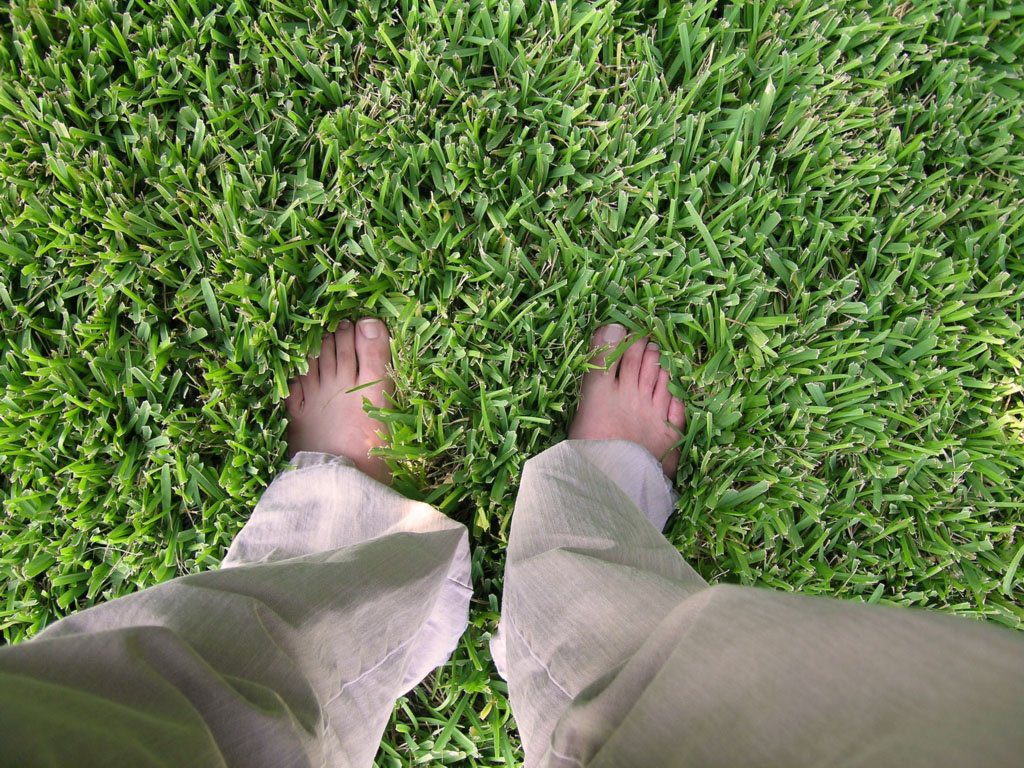 Best Fertilizer for Grass List
A. Starter Fertilizers
Starter fertilizers for lawns and grass have a higher concentration of phosphorous.  This promotes root development and helps the grass to fix itself in the ground.
This is very important in building a healthy foundation to your lawn.  These fertilizers are best used with seeds, sods or grass plugs.
1) Pennington Lawn Starter Fertilizer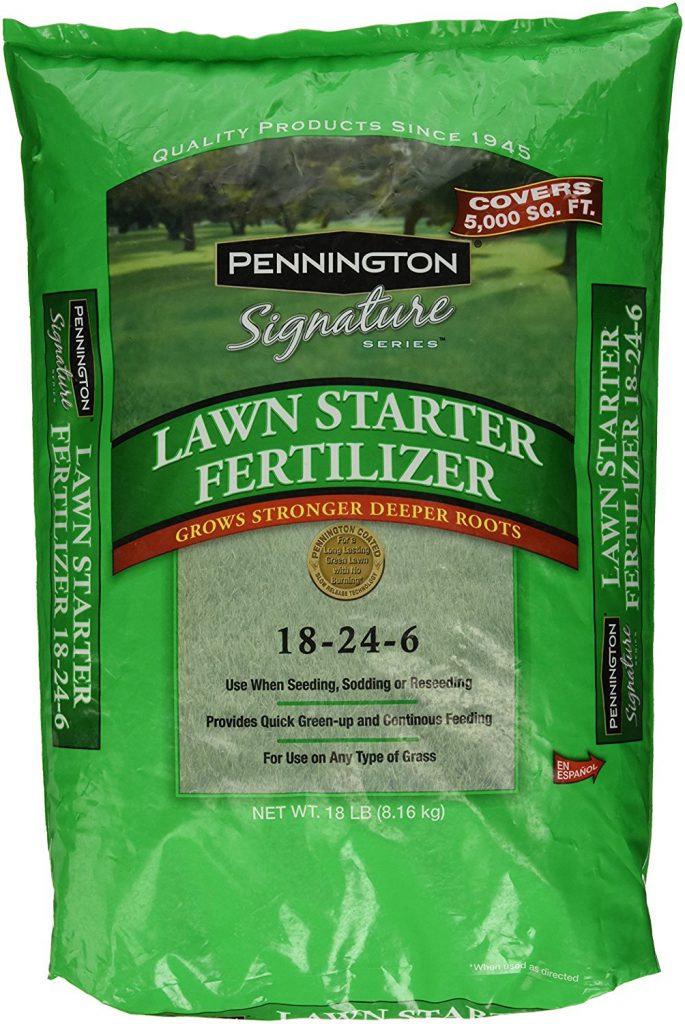 Notice the high phosphorous content of this fertilizer. 18-24-6.  Phosphorous is the mineral that encourages root growth in new grass. This means that this fertilizer is  perfect for starter lawns.
I would highly recommend this fertilizer. Not only that, Pennington have been going since 1945. This experience shows in the quality and reliability of their products.  It's also safe with any kind of grass.
Quick Summary
High Phosphorous: Phosphorous is the mineral that helps grass to lay its roots and build the foundations to a strong and healthy lawn.
For All Starter Grass Types: Works well with all methods of starting a lawn from scratch. Grass plugs, turf sods or seeds.
Slow Release Nitrogen: Nitrogen feeds the blades of the grass. This is slowly released for up to four months continuing to help the blade growth throughout that time.
Winter Protection: With a good root foundation and strong healthy blades, your grass will fair better in winter months.
5,000 Sq Feet:  An 18lb bag covers 5,000 Sq Feet. Larger bags are available to cover more surface area.
Why on My List?
This fertilizer makes my list because it has the perfect balance of nutrients for starter lawns. It's also from a very well established and reliable brand.
2) Scotts  Starter Food For New Grass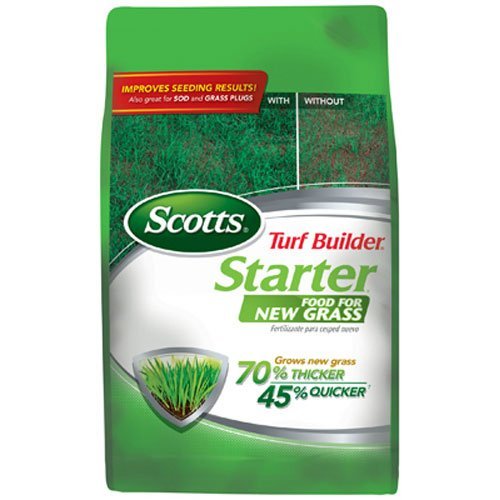 This one's ideal for getting a lawn kick started together with, seeds, sods or grass plugs. It significantly improves the speed of growth from grass seed. Also works very well with new sods and grass plugs.
We chose this one because Scotts is a well known, popular and very reliable brand.
Quick summary:
Thicker and Faster: According to their literature Scotts Starter Food will make your grass grow 70% faster and 35% thicker than without any fertilizer at all.
Strong Roots: Starter Food actively encourages stronger routes for your grass. This means, once established, your lawn will stand up well to mowing and cutting.
Feed Sods And Grass Plugs: If you've started your lawn with grass plugs or sods this fertilizer is perfect to get things moving along significantly faster.
Root and Blade Development: Specially formulated to result in strong grass from the bottom to the top.
Nutrient Balanced: Contains the correct balance of nutrients for strong and healthy lawns.
Why on My List?
This makes my list because it's specially designed for starter lawns with seed, sods, or grass plugs. Scotts is also one of the best  selling brands in the USA. It's very reliable and does the job it says it will.
B.  Weed and Feed Fertilizers
Weed and feed fertilizers are normally for already established lawns that have run into some problems. Maybe your grass has gone a bit thin. Maybe it has a weed problem.
If you haven't guessed already, a weed and feed fertilizer will kill the weeds and give some extra food to your grass at the same time.
1) Scott's Weed and Feed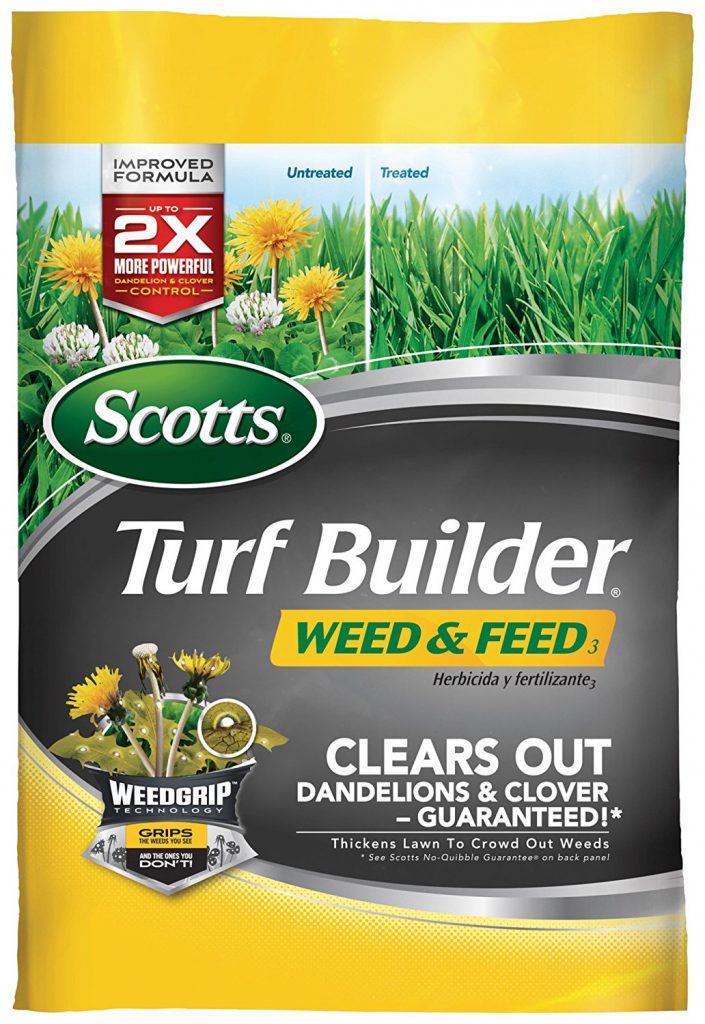 This time I am recommending Scotts over Pennington. Mainly because this is a very strong formula that really thickens your lawn so well that weeds should struggle to come through afterwards.
Quick Summary:
Very Strong: Weed and feed is two times stronger than the previous formula. It's Scott's strongest formula.
Kills Dandelion and Clover: These are two of the most pervasive and stubborn weeds that appear on lawns. Scotts weed and feed kills them outright while maintaining and improving the quality of your grass.
Weed Grip Technology: The manufacturers claim that weeds you can and can't see are "gripped" by the fertilizer.
Drowns Out Weeds: Your lawn will thicken and strengthen so much that weeds struggle to come through again.
Why on Our List?
Very strong formula which kills off the dandelions and clover without harming your grass. Feeds and strengthens grass extremely well.
2) Pennington  Weed and Feed Fertilizer 28-0-4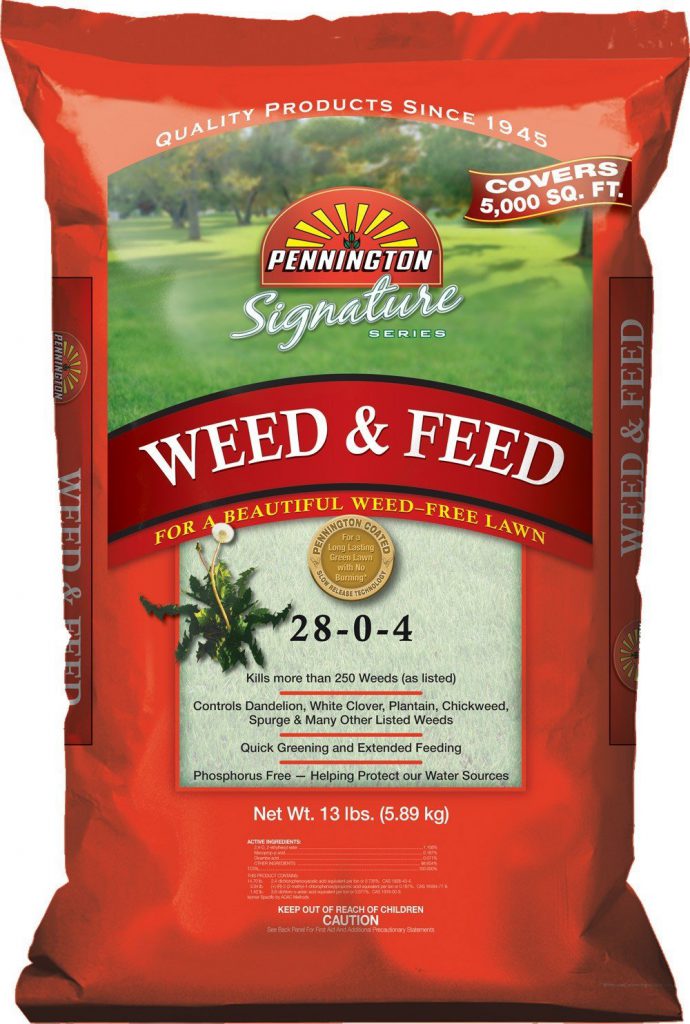 Notice the high nitrogen content in this one. 28-0-4. Nitrogen promotes the growth of the grass blades. This will help thicken your lawn and reduce the amount of weeds that can get through in the future.
Over two hundred and fifty different kinds of weeds can be killed using this fertilizer.
Quick Summary
Kills Over 250 Weeds:  A three part herbicide mix in this fertilizer helps to kill a very large variety of weeds.  This should ensure a clean and fresh looing lawn.
Kills Stubborn Weeds: Even the difficult to kill and well known stubborn ones like dandelion and white clover will be gone.
Added Nitrogen: Added nitrogen helps feed the lawn to make the grass blades bigger, stronger and greener.
Why on My List?
Pennington's Weed and Feed makes my list because it can kill over 250 types of weeds. It also has a very high level of nitrogen to promote strong, green grass.
C. Organic Fertilizers
1) Shin Nong PRO ORGANIC Lawn Food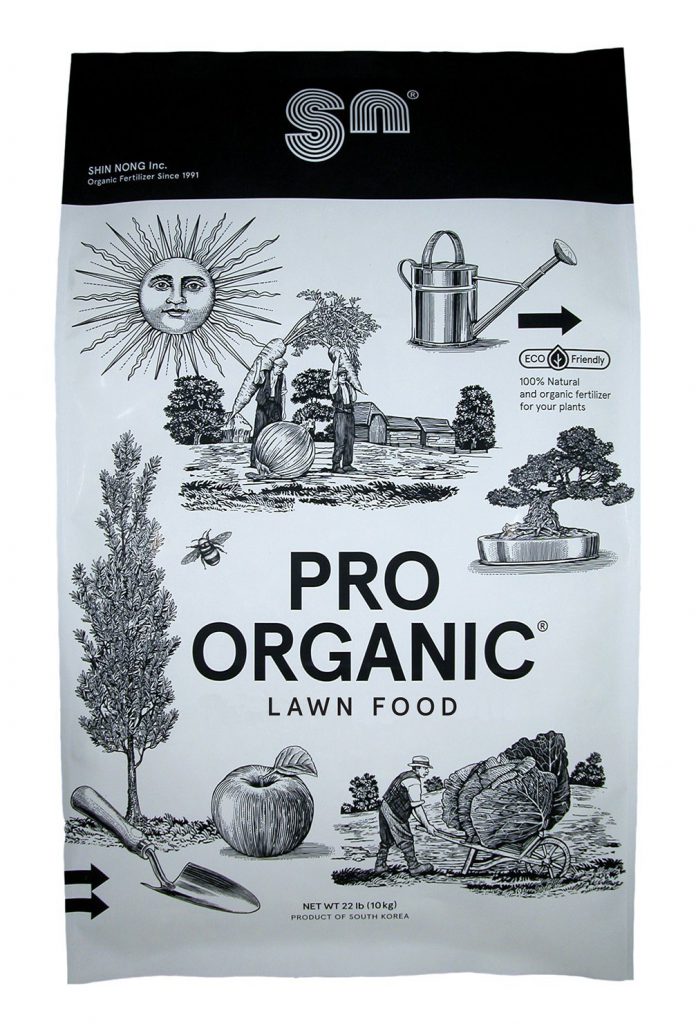 Quick Summary
#1 Rated: Rated number 1 organic fertilizer by wiwkievez .
Lush lawn Colour: Rich and deep coloured lawn with all natural ingredients.
Maximises Microorganism Activity: This means the grass can uptake the nutrients very quickly leading to a healthier lawn and soil.
Develops Bigger Roots: Bigger and stronger roots allows the grass to absorb water more effectively. This keeps the grass blades bigger and stronger and able to cope with more diverse weather conditions.
Completely Plant Safe:  Will never burn plants or grass. Many fertilizers can burn plants if not diluted properly or used in the wrong way. Shin Nong Grass Food does not have this problem.
Why on My List?
It was voted number 1 organic lawn fertilizer by wiwkievez.  It won't burn your grass, is fully organic and gives your lawn a beautiful lush  and deep green colour.
2) Dr Earth Lawn Fertilizer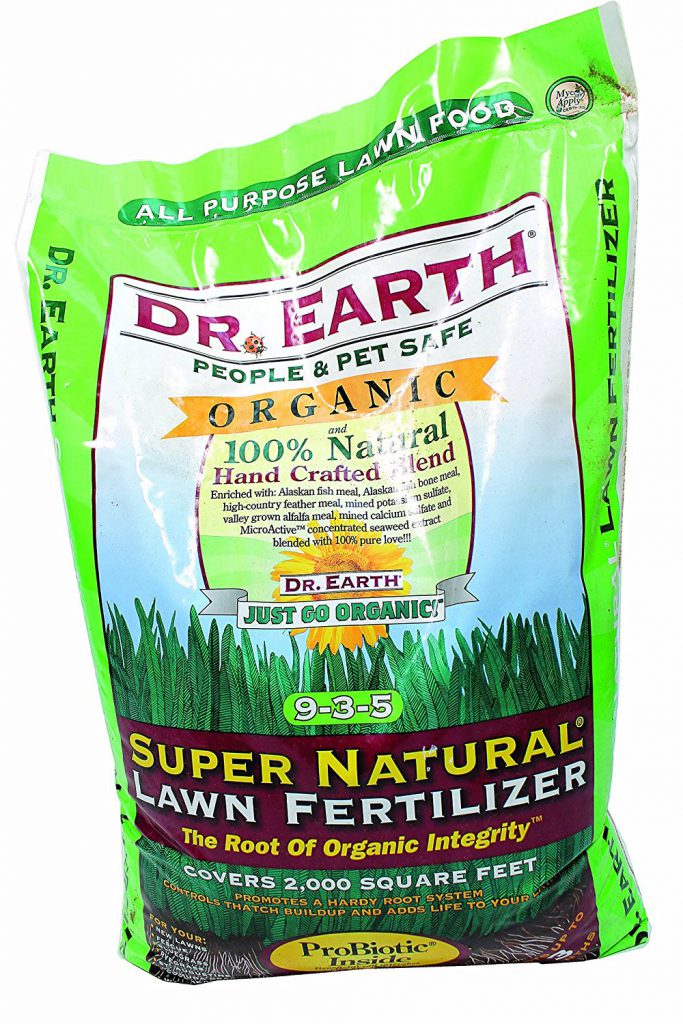 Fully organic and safe for children and pets.
Quick Summary:
100% Organic: All natural components including fish meal, bone meal and seaweed extract.
Safe: Non toxic ingredients mean that pets and family can play on your lawn right after using the fertilizer.
Slow Release: Minerals are slowly released to continuously feed the lawn over three months. This means you only need to apply once and your grass will keep being fed for three months.
Conserves water: Thicker roots will maximises efficiency of water uptake by the grass. Less watering will be needed saving water in the process.
Covers 2,000 sq feet: One 18lb bag is enough o cover 2,000 square feet.
Contains Mychorriza: Specific fungus that works in tandem with the roots. This promotes healthy roots and nutrient exchange between the fungus and grass.
Improves Soil Environment: Microbes and fungal parts improve the soil ecosystem. This gives a healthier and more beneficial soil for the lawn.
Why on our list?
This one makes my list because it's organic, and pet and child friendly.
3) Ringer Lawn Restore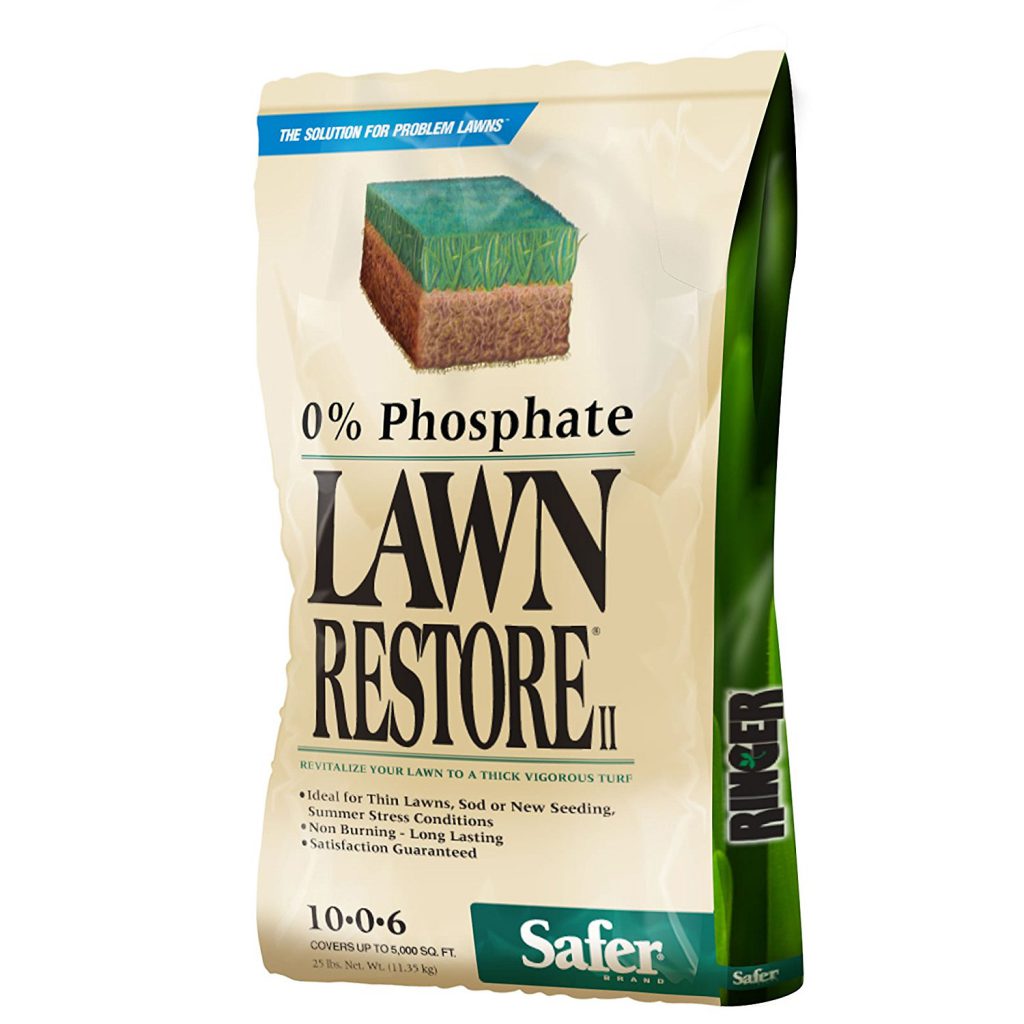 Great for restoring faded or thinning lawns. This is a fully organic lawn restore solution. No animal products are used in this fertilizer either.
Quick Summary:
Plant Based Nutrients: All plants and no animal parts makes this both eco friendly and ethical.
Large Area Covered: With 5,000n sq feet per bag you can cover a large grassy area and still leave some for another time.
Restores Green Fast: Within a few weeks colour is restored to your lawn.
Slow Release: This fertilizer is delivered in pellets which slowly let out nutrients over two to three months.  This means your lawn will continue to be fed for that period. Iron Fertilizers
Root Growth: Without the use of phosphate, this fertilizer strengthens roots through the organic microbes and plant remains in the pellets.
Why on my List?
This one makes my list because it's totally organic and uses no animal products either.
D) Iron fertilizers
Bring back colour to yellowing plants and lawns.
1) AG Southern Chelated Iron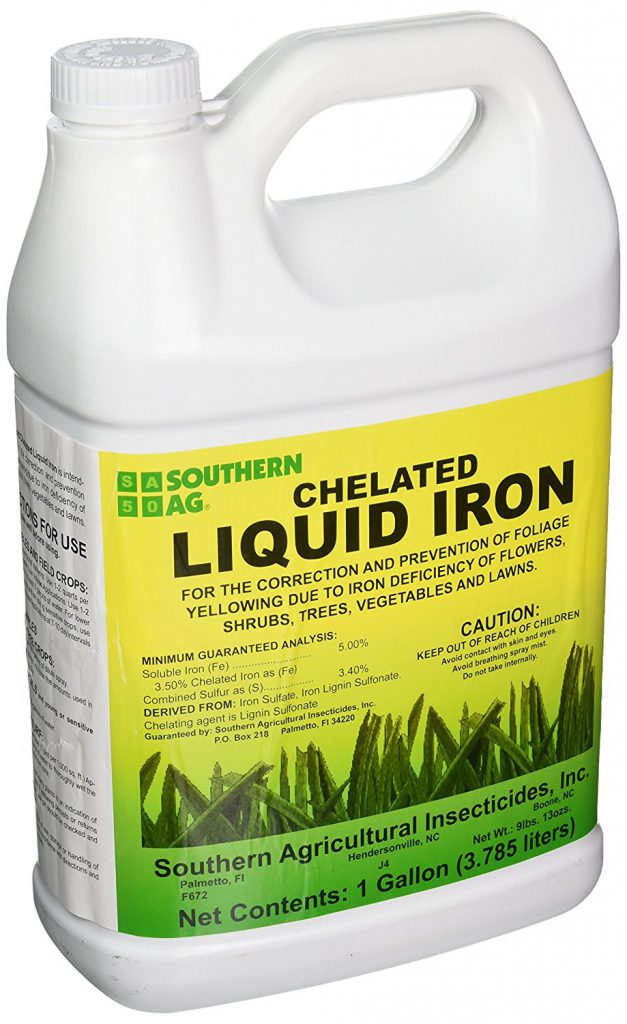 A favourite with parks and golf courses this fertilizer helps brighten up faded lawns and promotes a deep green colour.
*Caution: – Keep away from children and and pets. Will stain concrete and stone surfaces.
Quick Summary
Repairs faded Lawns: Often light coloured lawns can be due to an Iron deficiency. Southern AG Chelated Liquid Iron adds the required  iron to bring back that beautiful deep green colour that we all love about lawns.
Adds Iron: As just stated adding Iron to your lawn or other plants can bring back the green to the leafy parts of plants.
Use With different Plants: Can be used with many different plants including vegetables, flowers, trees, shrubs and grass.
8,000 Sq Feet: When diluted the gallon will cover up to 8,000 sq feet. 1,000 sq feet per pint.
Why on Our List?
4.5/5 start rating on Amazon from 51 reviews demonstrates the reliability of this product.  Perfect for revitalizing faded looking lawns.
We hope you enjoyed our best fertilizer for grass list. Please comment below with any questions. Which one works best for you? Or have I missed out any that you got great results from. I am always happy to hear from you.