If you don't support your tomatoes properly, they can fall onto the ground. This can increase the risk of the plants getting disease and being eaten by bugs. By holding up your tomato plants with tomato plant support cages, you keep them away from many nibbling insects and reduce the chance of many harmful diseases.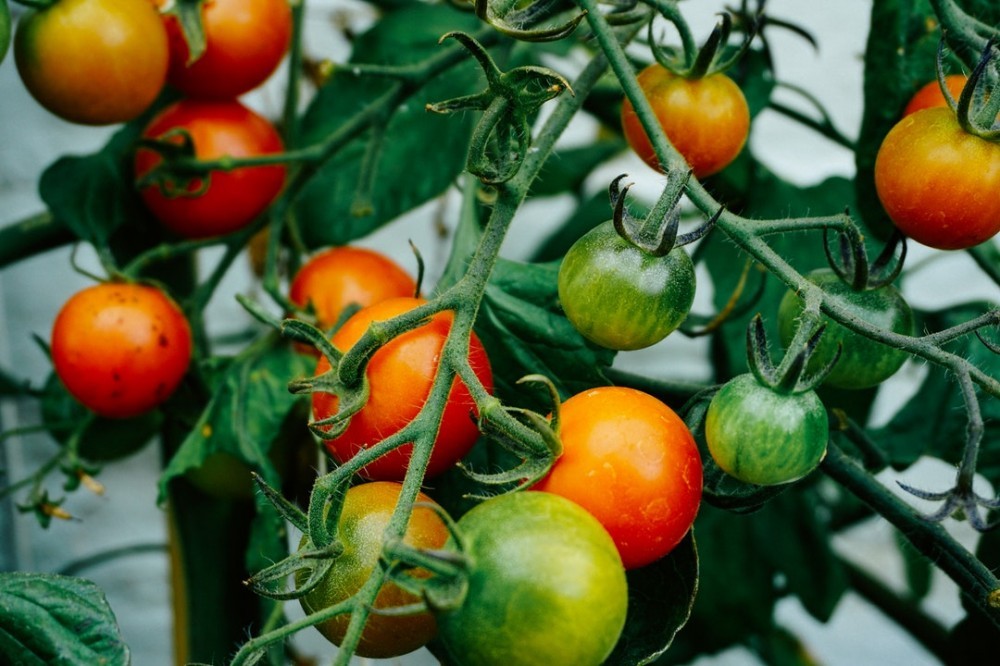 Tomato plant support cages can offer the perfect solution. They are easy to set up and keep your tomato fruits well away from potential harm. Take a look at our 7 best tomato support cages and see what takes your fancy.
Best Tomato Plant Support Cages List
1) Extra Tall Tomato Cages (Gardeners Supply Company)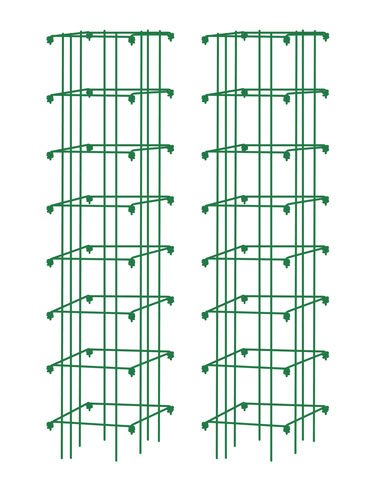 Quick Summary
Normal retail price:$59:99
Amazon Rating: 4.6 stars
Height 65″ (53″ installed)
Legs – 11″
Width 14.25″ by 14.25″
Heavy gauge steel frame
Powder coated
Long lasting
Tall and wide
No extra tying required
Easy harvesting
Easy storage
This comes in a two pack and is from the Gardeners Supply Company. It's tall, sturdy and long lasting.
Very Tall: This is a very tall cage which can maximise the height of your tomato plant. The cage is 53″ tall inches after putting the legs into the ground.
Strong and Long Lasting: The frame has a heavy gauge steel interior and is powder coated to prevent rust and make the cage last for many seasons.
Easy Harvesting: A wide frame makes harvesting easier and allows a bigger, lusher tomato vine. This means you can get at the tomatoes more easily when they are ready to be picked.
No Ties Needed: You can train the plant as it grows over the framework. Because of this there is no need to tie the plant to the frame. The plant will naturally grow around the framework and support itself using the cage.
Collapsible: It is possible to collapse the frames in winter which makes them very easy to store. They fold up into easily storable flat packs.
Fixes Well: The frame has eleven inch legs. This means that you can fix the frame very firmly into the ground. However, it is recommended by the manufacturer that use earth staples when there are windy conditions.
Please Note: This is a great strong frame with long legs to fix it into the ground. However, it may be wise to use earth staples to prevent the structure blowing over in windy conditions.
Get All These Tomato Plant Support Cages and More Here
2) Lifetime Tomato Cages – 4 Pack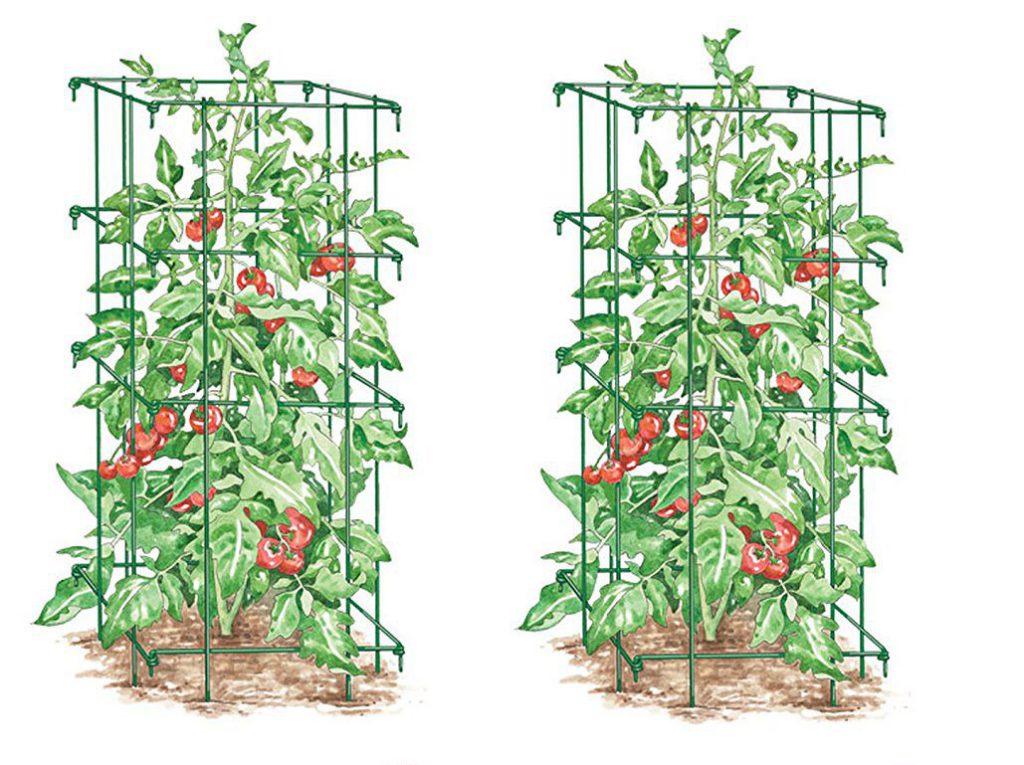 Brief Summary
Standard Retail Price:$59.99
Amazon Rating: 4.5 stars
Height 32″
Width 14-3/8″ X 39″
Long lasting
Thick steel
Coated to stop rusting
Tall and wide
No extra tying required
Easy harvesting
Easy storage
Also from the gardeners supply company, these are very similar to the tall towers above. They are just a bit shorter.
Fair Height: They are 20″ shorter than the tall cages. However, they still have a reasonable height for your tomato plants.
Strong and Long Lasting: These thick heavy gauge steel tomato cages have been coated with a special powder paint that gives them extra durability. According to many reviews on Amazon, they will even last happily throughout the winter.
Wide: They are tall and wide. This encourages your tomato vine to grow upwards and spread out. This can lead to a better crop and the wide cages make harvesting much easier.
Support Large Crop: The sturdiness allows the cage to hold up a fully grown tomato crop and it's fruits. Some wire cages have a tendency to bend and lose their shape when a tomato plant is getting on the bigger side.
No Ties  Required: With this cage, you won't need to tie the vines to the framework either. Simply wrap the vines around the cage frame as they grow.
Collapsible: The frames collapse which makes storage easy.
Please Note: One negative is that the feet of these cages are not very long. They can stick into the ground but to be on the safe side it would be wise to fix them with steaks or earth staples.
3) Gilbert and Bennett 42″ Galvanised Tomato Cage 5 Pack
Brief Summary
Standard Price $78:99
Amazon Rating 4 stars
Height 42″
Width 16″ diameter
8 gauge steel frame
Galvanised
Long legs
Selection of colours
This is a more traditional tomato support with a conical shape. The steel frame gives good support and the long legs help fixing into the ground.
Strong Frame: The Gilbert and Bennet Tomato frame is another strong one. The legs are 7 gauge steel and the main frame is 8 gauge steel. The makers claim it can support a ten pound tomato plant.
Galvanised: This places a secure non reactive coating over the frame which will protect it from rusting. Because of this, this cage should last for many years.
Long Legs: The long legs of the frame allow you to secure it into the ground without having to fix them with anything else.
Colour selection: You can choose from a number of colours to suit your gardening tastes.
Please Note: This frame is not collapsible. It's long legs should mean no earth staples are required. But as usual, to be on the safe side, we advise using earth staples in case of windy conditions.
4) Tomato Ladders Set of 3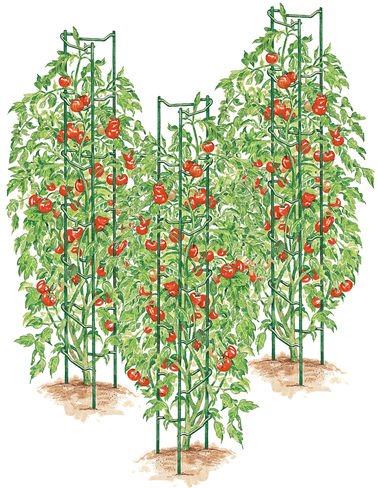 Quick Summary
Usual retail price: $59:99
Best Price Here
Amazon rating 4.3 stars
Height 57″ – including 13″ legs
Width 6″ x 6″
7mm steel frame
Powder coating

specially shaped rungs

13 inch legs fix well into the ground
These tomato plant supports are tall, strong and narrow. They give great support and can be uses in a small space.
Very Tall and Strong: At 57 inches high and with 7mm steel, this tomato frame is tall and sturdy. The makers claim it can support 100lbs of tomatoes.
Long Lasting: The frame is covered with a powdered coating which will prevent rusting and make the set last for many seasons.
Good Support: The joining rungs are shaped with a dip in the middle. This gives a nice place for the vines to hang and support the tomatoes.
Specially Shaped Rungs: The dipping joining parts allow for easy training of the vines as they grow upwards. You can wrap the vines around the rungs and they will support your tomatoes in the dip.
Maximize Gardening Space: Because this frame is narrow it can maximize gardening space. You can grow more tomatoes in a smaller space.
Long Legs: 13 inch legs give you more than enough to drive this cage into the ground and provide great support without any extra help.
Please Note: Some people prefer wider cages than this for easier harvesting. If you have limited space this is a great set of cages. Once again, in case of windy conditions we advise earth staples.
5) Blue Ribbon 3-Pack Ultomato Tomato Plant Cage

Quick Summary
Standard retail price: $34:99
Amazon Rating: 4 stars
Height 60″ including legs
Width 2.5″ X 4.3″

Strong steel core stakes

Plastic coating 

Sets Up in Seconds
Snap on Arms
5-Foot Stakes
Accessories
These tomato cages are quite tall. They have a strong central core and are coated in plastic. They come in a handy three pack.
Strong: This is yet another tomato support cage with a steel frame coated with a plastic covering. The steel frame gives strength to the cage while the coating stops rusting. This should be able to last for many years.
Easy Assembly: Place the three main rods into the ground and snap on the supporting beams. This is a very easy set up.
Snap on Arms: The frame is made up of three main rods and nine beams. The beams easily clip onto the main rods giving the tomato plant a framework to grow around.
Adjustable: The arms can be moved up and down as the plant grows, This helps you give your tomato plants the correct support at all stages of it's growth.
Five Foot Stakes: The five foot steaks give enough height for your plants to fully flourish.
Easy Storage: All the parts can be dismantled and stored away in a small space.
Range of Accessories: Extra arms, rods, twine, support rings and more are available.
Please Note: There are very mixed reviews on amazon for this product some claiming that it's very flimsy. However with over 400 reviews giving an average of 4 stars you are likely to be safe.
6) Easy GO Tomato Trellis-3 Pack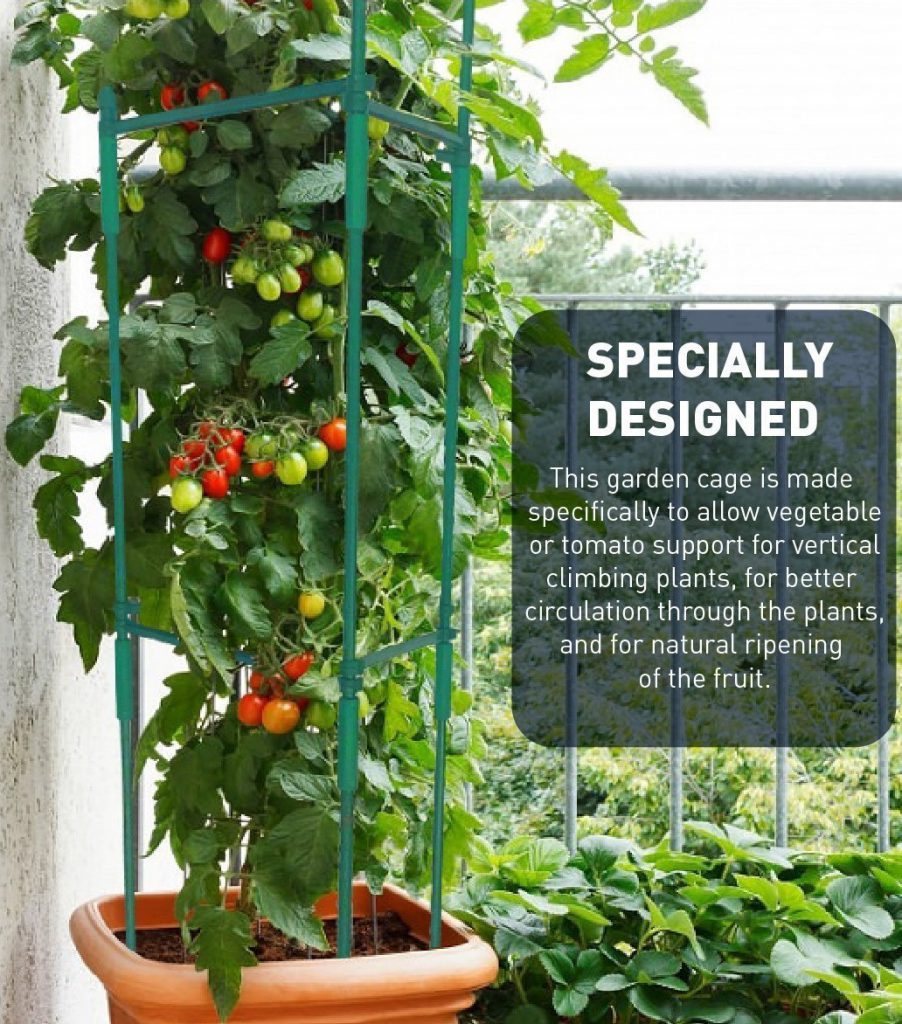 Quick Summary
Amazon rating: 4.2 Stars
Height 5 foot
Width
Designed for vertical climbing plants
Easy assembly
Easy storage
Movable arms
You will have to assemble this one, but it's not too hard. The adjustable cross beams are an added benefit to this support system.
Strong: The main framework of this tomato cage has a steel core. This framework is coated in plastic which makes it last much longer. This way you have a strong frame and one that won't be affected by the weather.
Easy Assembly: To assemble you stick the frame into the ground then attach the plastic arms. The assembly is very easy as the arms clip onto the main rods.
Special Design: The makers claim this is a special design to encourage and support growing vine fruits. This is shown in the feature of moving support beams. You can move the support beams up and down to follow the growth of your plant.
So as your plant is growing you can start the support low and move it up as the plant gets bigger. This means that your plant is supported all the way through it's growth.
Easy Storage: This is another easy storage tomato plant support cage. You can dismantle the parts and store away in a small space for the winter.
Please Note: The height will be less once you put the rods into the ground.
7) Dura Tomato Cage 4 Pack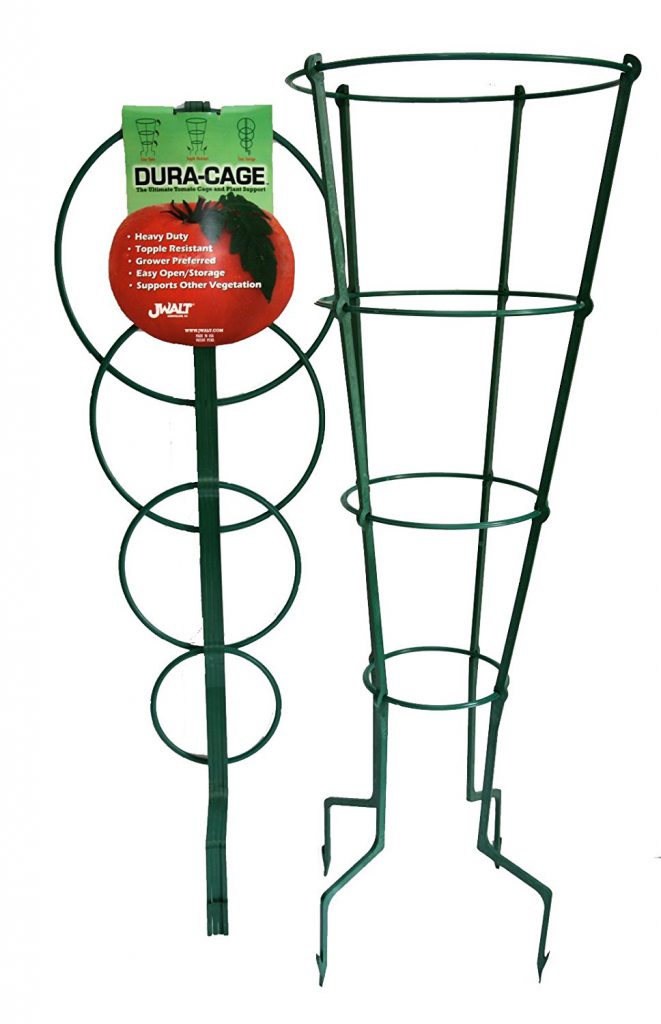 Brief Summary
Standard Retail Price $74:99
Height 44″ before legs go into ground
Width 16″ diameter
Durable and sturdy
Lightweight
Collapsible
Plastic
Fix into the ground easily
No rust or rotting
Sturdy: The Dura cage tomato supports are very sturdy. They are made of thicker than usual plastic. The plastic is very strong so they can keep their shape unlike many thin wire supports. They will also last a long time.
Light Weight: Because they are made of plastic the Dura cages are light weight and very easy to work with.
Collapsible: They have a clever ability to collapse so they can be easily stored. When taken out of storage they are equally easy to assemble. Just hold the frame upright and the circular parts fall back into place.
Long Legs: They have long legs which you can insert into the ground to hold the frame in place. This fixes them well into position and stops them from falling over.
Won't Rust: Being made of plastic means they won't rust or rot away.
Please Note: A recent customer review on Amazon has said that these cages are not as sturdy as they once were. Earth staples are also advised.
Buyer Tips
Be careful to check for durability and strength. Also look for how long the legs are. These determine how well fixed into the ground your cage will be. Lastly check if you need any other extras to fix the cage into the ground or to tie the tomato plants with.
If you have any questions about our top seven list of tomato plant support cages or have any better suggestions please let us know in the comments below. Many thanks, Rob.