Using the wrong kind of fertilizer can really cause issues with your tomato crop.  Two common examples are, the end of the fruit rotting, and small green tomatoes.
The best fertilizer for tomatoes has the correct balance of essential nutrients. This helps to prevent plant health problems and encourages both a healthy vine and  plump fruits.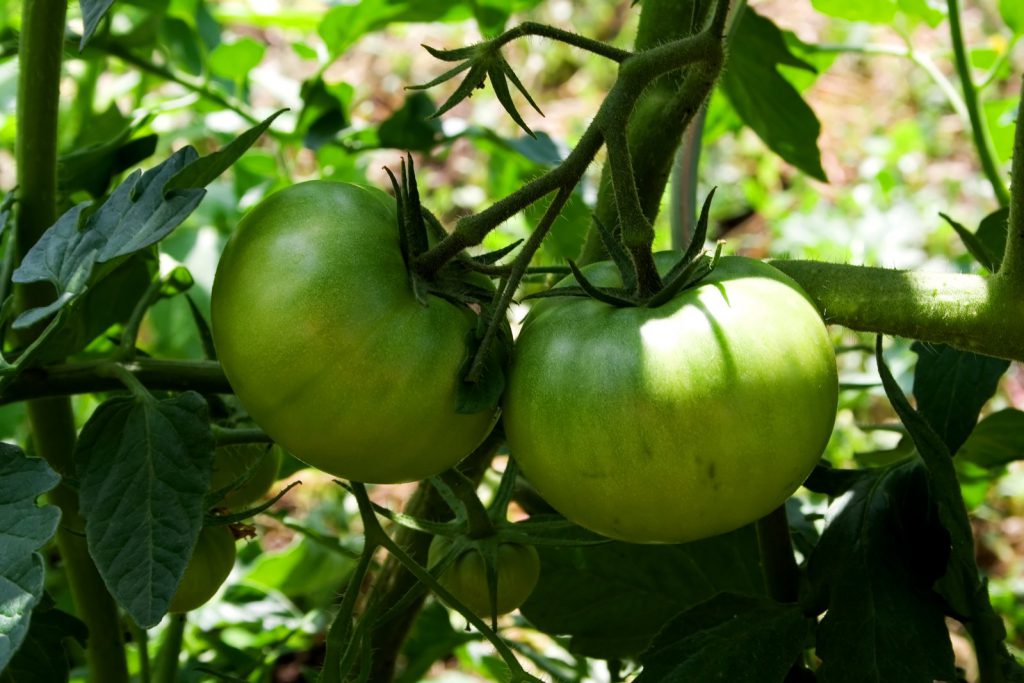 What Makes the Best Fertilizer for Tomatoes?
The best tomato fertilisers have the correct ratio of three basic plant nutrients: nitrogen, phosphorus and potassium.  This balance is called the N-P-K ratio.
A good ratio for tomatoes in normal soil is 5-10-5 or a 5-10-10. You are looking for less nitrogen overall than the other nutrients.
For example, too much nitrogen makes the leaves big but the tomatoes end up very small.  Nitrogen is required, but only in the correct balance with the other nutrients.
What if I'm a Beginner?
A really easy fertilizer to get started with is Jobes Tomato Spikes. Simply stick them into the soil and they will slowly release all the appropriate nutrients in the correct time.
If you're after an all in one solution, the Sow and Grow Box from Nature's Blossom is utterly ideal. It has everything you need to get started. It even allows you to grow four different kinds of tomatoes from the get go.
What if I've Had Problems Before?
The most common problem for tomato plants is blossom end rot. This is when the end of the tomatoes go soggy and black. This is mainly due to a deficiency in calcium.
Starting to grow in wet weather or the tomato fruits resting on wet earth may also cause this.
Many of the fertilizers in our list below have added calcium to help with this problem.  Have a look in our list and pick one with a high calcium content. For this we recommend Tomato – Tone.
If you've had a strong vine but no or small tomatoes you may have been using too much nitrogen. The fertilizers in our list below have the correct balance of nitrogen and other nutrients.  This should help your problem.
What if I'm Experienced?
It's Ok to add a high nitrogen fertiliser early on to help the growth of the vine. You can then choose to balance it with another fertilizer once the plant is closer to bearing fruit. Alternatively you could pick any of the fertilizers in our list below that will do the job from start to finish.
What's the Easiest Option?
It's much easier to use a specially designed fertilizer right the way through. You can avoid making mistakes and spoiling your tomato harvest. This is especially true if you are growing for the first time.
You could even use the sow and grow all in one option which has everything you need from start to finish.
That's why we've selected the most suitable fertilizers with the correct N-P-K ratio for tomatoes. There's no need to use different types during the growing process.
Pick one of the beast fetilizers below that fit your needs and you're good to go.
Best Fertilizer For Tomatoes List
1) Jobes Tomato Fertilizer Spikes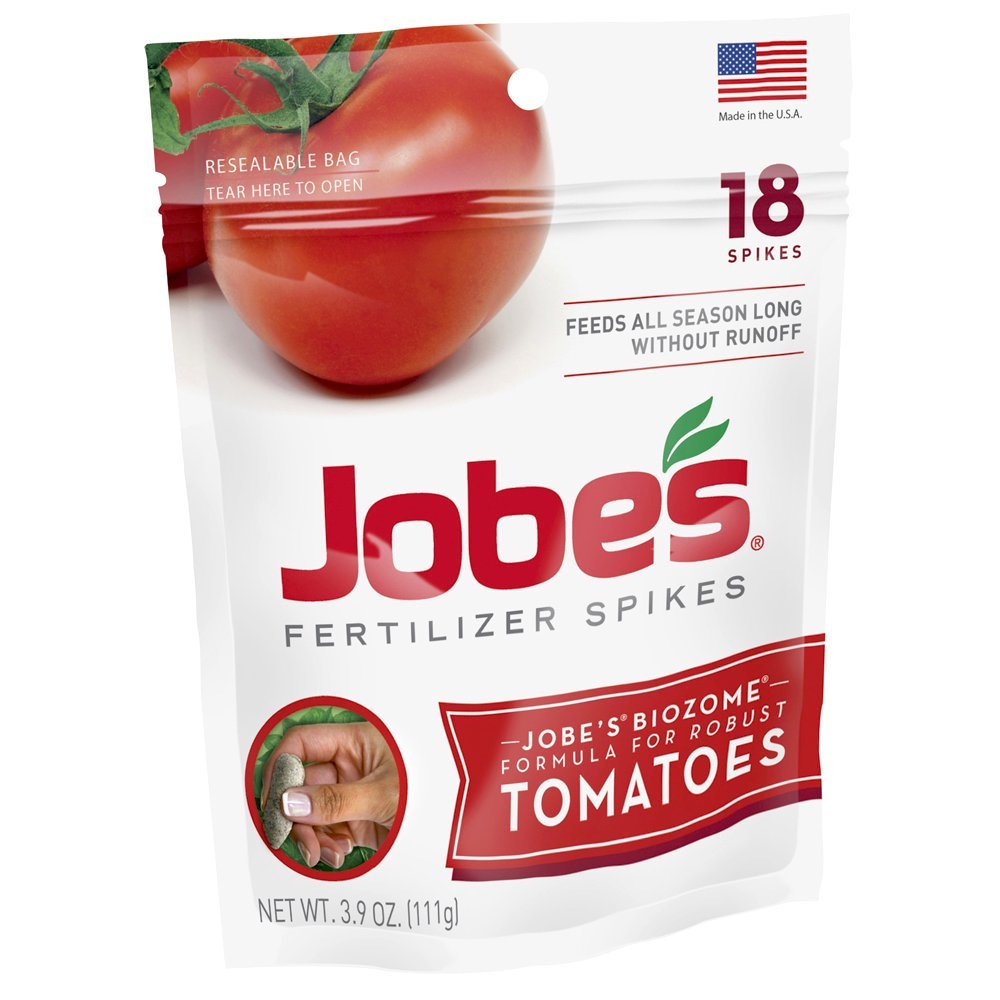 Great for beginners and small crops, this is a quick and easy solution.
Quick Summary
Price: $ 8:99-$14.99
Easy to use: Just stick in soil
No Waste: Release automatically
Straight to Roots: Released under soil
Long Lasting: Eight weeks
Guaranteed Nutrient Ratio: Correct for healthy tomatoes
18 Spikes: Enough for 9 plants
Organic Option Also
Easy To Use: These ones make our list partly because they are just so easy to use.  The pre-measured fertilizer spikes will slowly release the nutrients that your tomatoes need over time.
No Waste: Just insert the spikes into the soil and they will automatically give out nutrients at appropriate times. This cuts down on waste and mess. This method also has less odours than many fertilizers.
Direct To Roots: The nutrients are given out below the surface of the soil directly to to the growing roots. A pretty efficient method.
Long Lasting: Each spike will feed your tomato plants for eight weeks giving nutrition for the full growth period of the plant.
Nutrient Ratio Guaranteed: A guaranteed fertilizer ratio of 6-18-6 means your plants et the correct N-P-k ratio for optimal growth.
18 Spikes: Jobes recommend 2 spikes per plant. This means 1 packet should be enough for eight healthy tomato plants.
Why on our List?
This one makes our list because it's just so easy to use.  Very convenient, especially for first time growers.
2) Sow & Grow – Fully Organic
Fantastic for beginners . Ok, Ok, I know this technically isn't only a fertilizer but we just love this special starter kit and had to share it.
Quick Summary: 
Four Different Kinds of Tomatoes: Try out new tomato types
Everything You Need: All accessories included
Certified Organic: 100% Organic
Beginner Friendly: fantastic for first time tomato growers
Step By Step Guide: Get walked through the process
Indoor or Outdoors:  Can grow anywhere you want
Money Back guarantee: If you're not 100% satisfied get your money back.
Grow 4 Different Types of Tomato: Grow green zebra, blue cherry, yellow pear and red tomatoes.  Much more fun than just one type. Have super salads or dishes with different colours and textures of tomato.
Everything You Need in a Box: Absolutely everything you need to grow tomatoes from scratch is contained in this box.  All equipment and tools are provided. 4 biodegradable planters, 4 plant markers, 4 seed packets, 4 soil disks, full instructions and growing tips.
Certified Organic: This starer kit is 100% certified organic.
Beginner Friendly: With everything contained in one box and full step by step instructions this is a great way to get started in tomato growing.
Indoors or Out: This convenient kit can be used indoors or outside if you wish. This allows for growing in winter if you want to.
Fun: Personally I think this kit is a lot of fun. Especially as it allows you to experiment with four different kinds of tomato plant.
Great Gift: As it's all contained in one box, this makes for a great gift.
Why on Our List?
This one is on out list because it's fun, provides variety and is superb for beginner
Have you had blossom end rot before? This all organic, long lasting, and well balanced formula prevents blossom end rot. It's also great for the environmentally friendly gardener.
Quick Summary:
Price: $19:99 for 4lbs
Organic: All natural fertilizer
Specially Formulated: Correct balance of nutrients
Prevents Blossom End Rot: Stops rotting
15 Essential Nutrients: Everything a tomato needs
Environmentally Safe: Organic and clean
Organic: We like this product because it's an approved organic product and contains thousands of living microbes.
Specially Formulated: It's specially formulated for tomato plants providing safe, steady and correctly balanced nutrients. This should help you avoid any problems associated with nutrient imbalance in tomatoes.
Prevents Blossom End Rot: The special formula helps prevent blossom end rot. A very common condition caused by an incorrect amount of calcium in tomatoes which makes the end of the tomato become black and rot.
15 Essential Nutrients: Tomato-Tone contains all 15 essential nutrients for healthy tomato plant growth. This should promote very healthy tomato fruits.
Environmentally Safe: As an organic product, Tomato-Tone is of course environmentally friendly.  No toxic or dangerous ingredients or sludges.
Why on Our List?
This one makes our list because it's all organic and produces plums tasty tomatoes.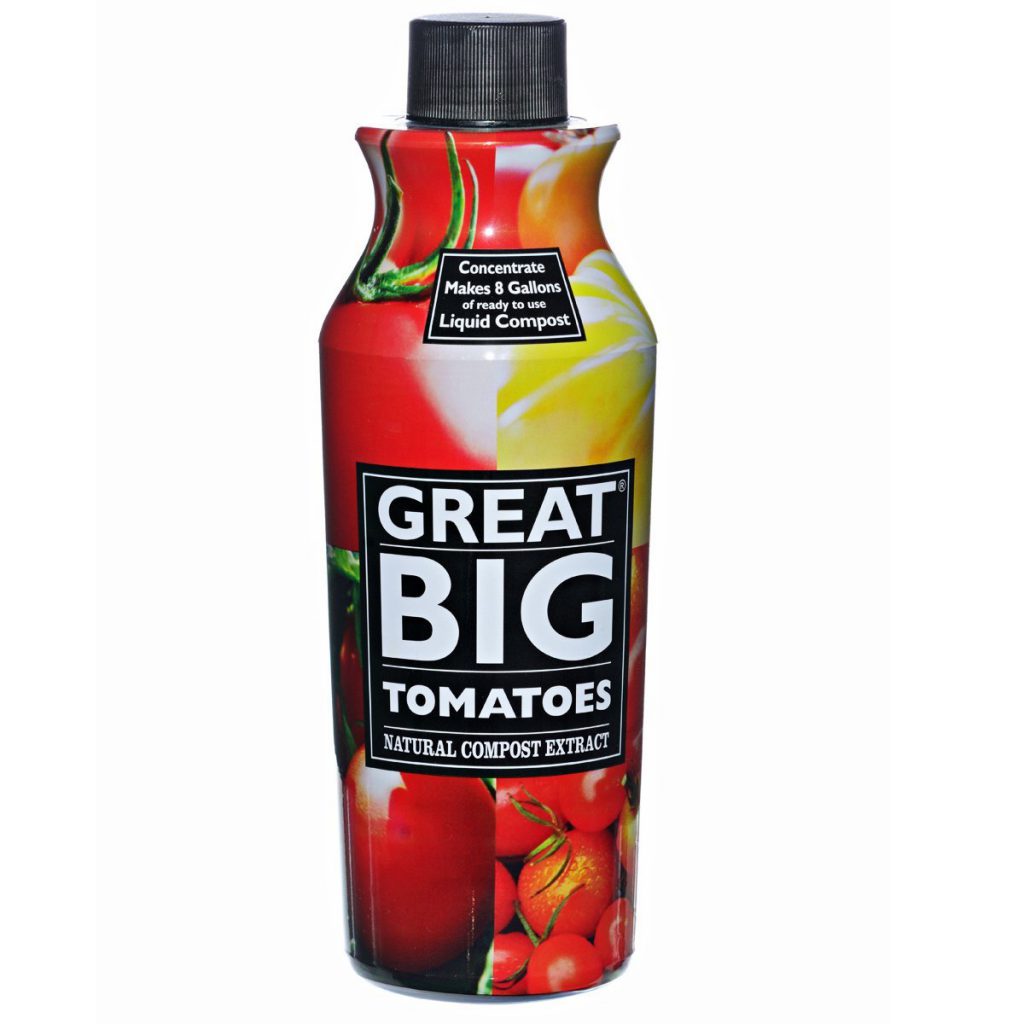 Organic with compost extract, this one's absorbed very quickly and is good for small to medium crops. If you've had small tomatoes before this could be the one for you.
Quick Summary
Price:
Concentrated: Small bottle can make up to 8 gallons
Gets To Roots: Liquid is way faster than solid at being absorbed
Instant absorption: 100% ready to be absorbed (bioavailable)
Special blend of Microbes: Special blend of micronutrients and microbes.
Concentrated: This one's an interesting fertiliser as it's very concentrated. You can get up to eight gallons of usable fertilizer from this small bottle. This makes it go a long way.
Gets To Roots Easily: Because this is liquid fertilizer, it doesn't need to be mixed into the soil. Simply spray or pour over the soil (once diluted) and it gets to the roots by itself.
Instant Absorption: 100% bioavailable ingredients allow for instant absorption of some of the nutrients nutrients. Compared to dry compost for instance which may take years to reach 100% bioavailability.
Special Blend of Microbes: The manufacturers claim their special blend of microbes helps the soil to work together with the plant to maximise absorption of nutrients. The microbes assist breaking down of soil components which make absorption of soil based nutrients much faster and easier.
Organic: This is very important for the environmentally conscious gardener. More and more people are insisting on organic all the time.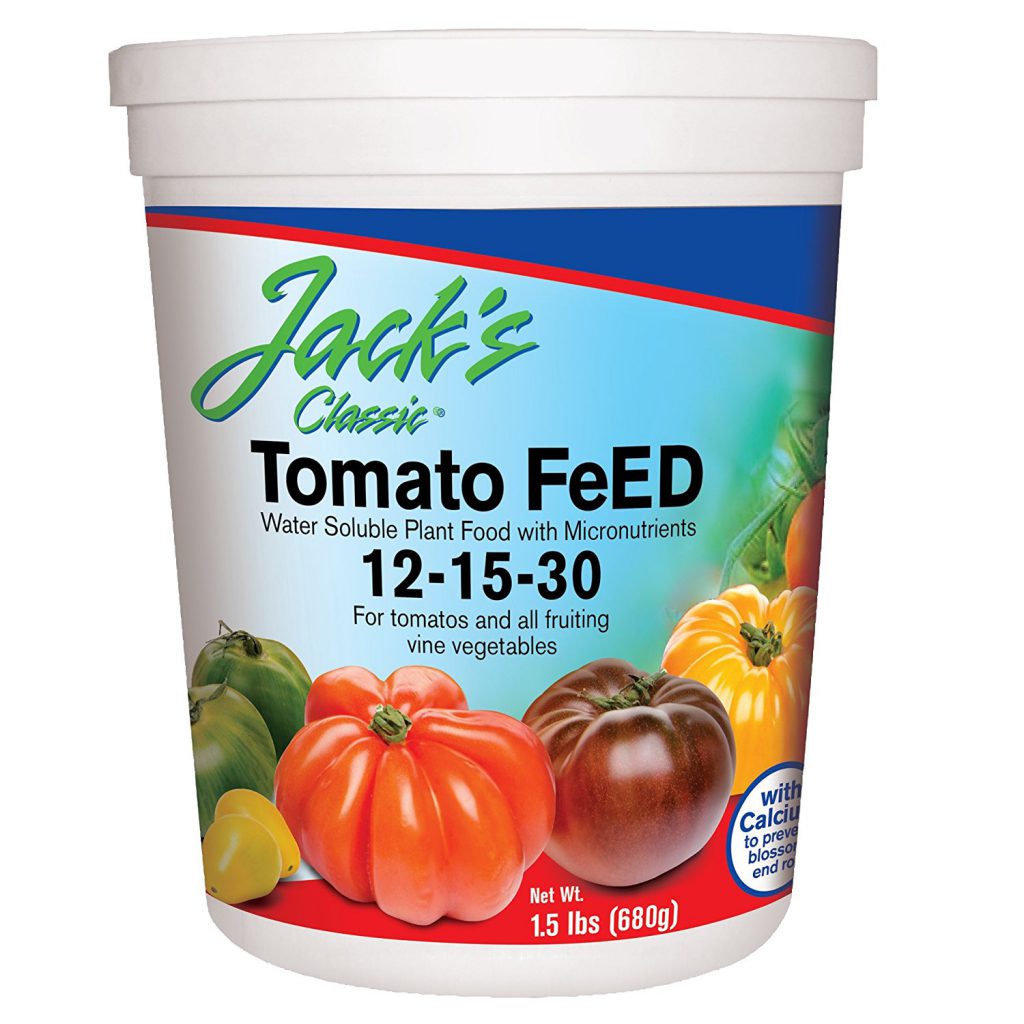 Prevents blossom end rot and grows a variety of vegetables. Great for the vegetable gardener who wants more than just tomatoes.
Quick Summary:
Price: $16.25 – $28.49
Wide Use: can use for a variety of vine fruits and vegetables
Balanced Potassium: Good for tomatoes.
Strong Vine: Promotes a strong, lush vine and many fruits
More Than Just Tomatoes: 
Ratio 12-15-30: A slightly different ratio to normal tomato fertiliser. which promotes both the vine and the fruit. This results in a strong vine stalk, bright green leaves and many plump fruits.
More Than Tomatoes: Due to the nutrient combinations in this fertiliser, you can use it for a variety of vine fruits and vegetables. Tomatoes as well as eggplants, peppers, cucumbers, squashes and Zucchini can all be grown using this fertiliser.
Contains Magnesium: Magnesium helps the plants flourish under a wide variety of soil conditions.
Contains Calcium:  Calcium is the nutrient that helps prevent blossom end rot.
Micronutrients: As with many of our best fertilizer choices this one contains a special blend of micronutrients.
Why on Our List?
This one makes our list because it can be used in a variety of soil types and is suitable for many different vine vegetables and fruits.
5) Texas Tomato Food
Another one that prevents blossom end rot, this makes 256 gallons of fertilizer. Great for the gardener wishing to grow more than one vines. Also great value.
Quick Summary
Price $28.65
Versatile: Can use with a variety of vine fruits and vegetables
Good Potassium Ratio: Helps fruits of vines grow.
Amazing Value: You can make 256 gallons from this one tub.
Hydroponic friendly: can be used with hydroponic systems
High Performance: A suitable N-P-K ratio combined with a special blend of micronutrients strengthens every part of the plant and promotes ripe red tomatoes.
Variety:  Able to grow a broad spectrum of vine fruits and vegetables. For example, tomatoes, cucumbers, melons, eggplant and squash
Refined by Trials: This fertilizer has been refined over 63 years of testing and trials. Over time the best resulting formula has been selected and is now always used.
Use in a variety of ways: This formula is suitable for use in soil, pots, foil and hydroponics.
Prevents Blossom End Rot: High calcium levels reduce the risk of blossom end rot.
Amazing Value: With a concentration of 256-1 it's possible to make 256 gallons of Texas Tomato fertilizer.
Why on Our List?
This Texas fertilizer makes our list because it's hydroponic friendly plus it can be diluted to 256 gallons. This makes it incredibly good value for money.
6) Miracle Grow Tomato Plant Food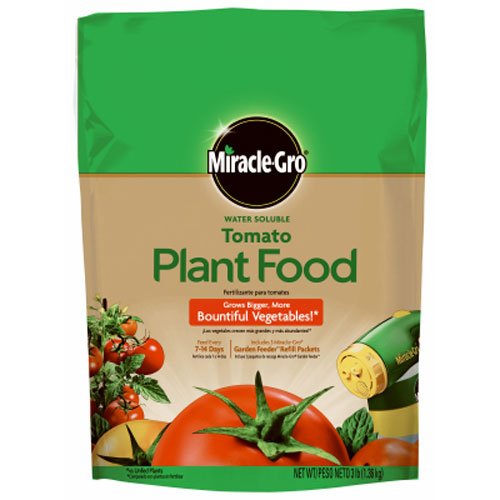 A well established brand, this is an all round performer.
Quick Summary
Price $16.43
Instant Feed: Fast acting micronutrients.
Good Nutrient Ratio: Helps vine fruits and vegetables grow.
Safe: Guaranteed not to burn plants when used as directed.
Big Brand: Reliable, well known and famous name
Instant Absorption: Specially formulated micronutrients help fast feeding of the plants.
NPK Ratio: Correct NPK ratio for tomatoes and other vine vegetables.
Reliability:  Miracle grow is a very famous name and well known brand. You can rely on this product.
Why on our List?
We couldn't compile our list without including this famous name. Miracle grow is a widely established brand and one you can no doubt rely on.
Hope you enjoyed our Best Fertilizer for Tomatoes List. Please share your experiences with these fertilizers in the comments below. Alternatively, if you think we've missed out a great  tomato fertilzer please tell us all about it.